Porch pirates pranked with package of poop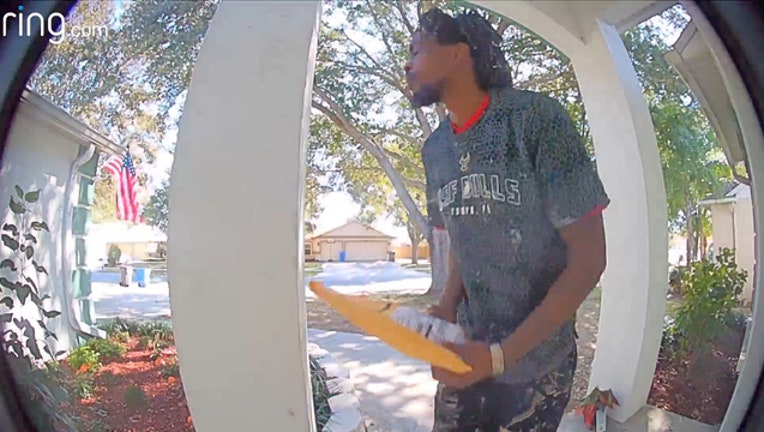 article
RIVERVIEW (FOX 13) - Heather Feuerbach shops online, buying everything from clothes to gifts to important medicine for her dog.
But when porch pirates stole a package containing that medicine, she decided she'd had enough.
Frustrated, she decided to let her dog leave a little present of his own for the suspected porch pirates.
In a video captured by Feuerbach's Ring doorbell, a man in a USF bulls t-shift reaches down and swipes the package right off the doorstep.
"How dare someone come and steal a package from my home that I bought?" Feuerbach wondered.
Inside the package was $40 dollars' worth of important medicine for her boxer, Maxwell. They're prescriptions Feuerbach says aren't easy to replace.
 "When he doesn't take his medicine, you can hear the cracks in his joints. The movements are very slow. He's very hard to get up and down," she explained.
After Maxwell's medicine was stolen for the second time, Feuerbach got an idea for some sweet, but smelly revenge.
 "When I was cleaning the backyard it just struck, so I filled a week's worth of dog poop in a nice Amazon package for him to pick up," Feuerbach said. "I put it in a couple bags and then I wrapped it in Christmas wrapping paper so that it appeared to be a Christmas present."
As predicted, her "present" was picked up. She says the thieves haven't returned since.
When asked how did she felt when she saw the dummy package was taken, Feuerbach said, "That definitely was enjoyable knowing that my payback prank worked."
So far, no arrests have been made in the case.
Feuerbach recommends anyone who's going get a lot of packages should install some kind of security camera.
Authorities say if you're the victim of a package theft, be sure to file a report with your local police department.