Presidential debate: Trump, Biden clash on COVID-19, taxes in final matchup
NASHVILLE - With just 12 days left until Election Day, President Donald Trump and Democratic nominee Joe Biden faced off in the final presidential debate of 2020 and clashed over issues such as the handling of the coronavirus pandemic, climate change and foreign interference to U.S. elections.
Thursday's event appeared more restrained than the first debate, which was considered one of the most tumultuous in modern history with the two men frequently talking over each other. This time around offered a more substantive discourse on how each candidate would solve various challenges facing the country. 
COVID-19
The debate opened on the topic of COVID-19, which has killed more than 223,000 Americans and infected nearly 8.5 million across the country as of Oct. 22, according to data compiled by Johns Hopkins University.
Trump touted his administration's response to the pandemic, claiming the crisis "is going away" and promising a vaccine will be announced "within weeks." 
The president also highlighted his own recovery from the novel coronavirus after being treated for COVID-19 at Walter Reed National Military Medical Center earlier this month before completing his recovery at the White House. Both candidates tested negative for the virus prior to Thursday's event.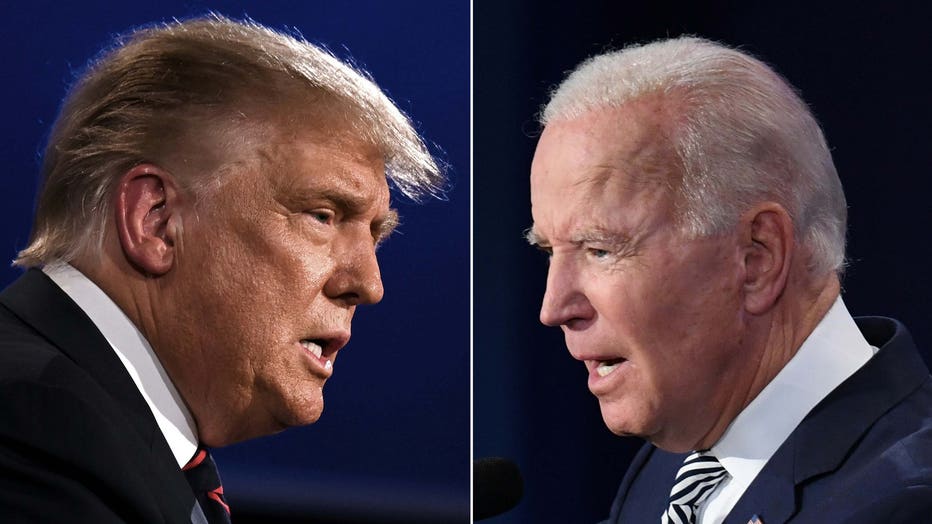 This combination of pictures shows President Donald Trump (L) and Democratic presidential candidate Joe Biden squaring off during the first presidential debate at the Case Western Reserve University and Cleveland Clinic in Cleveland, Ohio on Sept. 29
"This has been a worldwide problem, but I've been congratulated by many countries on what we've been able to do," the president said. 
Biden slammed Trump's response to the pandemic, stating "the president has no plan."
"He always says people are learning to live with it. People are learning to die with it," Biden said, promising that if elected he would "make sure we have a plan."
Reopening the economy
Shutdowns across the country in an effort to help curb the spread of the virus have devastated the economy and led to record unemployment. 
In response to a question on how each candidate would proceed, Biden referred to his plan to reopen schools — calling for more federal funding and guidance for local districts. 
Trump called for schools to reopen in the fall amid the ongoing virus threat, saying that "the transmittal rate to teachers is very small."
"We're not going to shut down and we have to open our schools," Trump said. "The cure can not be worse than the problem itself."
"We ought to be able to walk and chew gum at the same time," Biden said on the topic of reopening safely. 
Foreign interference
U.S. officials have reported that Russian hackers have targeted the networks of dozens of state and local governments in the United States in recent days, stealing data from at least two servers. 
Officials are also accusing Iran of being behind a flurry of emails sent to Democratic voters in multiple battleground states that appeared to be aimed at intimidating them into voting for Trump.
RELATED: Russia, Iran obtain US voter registration info, aim to interfere in 2020 election, FBI says
When asked how each would handle the threat, Biden replied: "I made it clear that any country, no matter who it is, that interferes in American elections will pay a price. They will pay a price."
Trump said nobody has been tougher on Russia through sanctions and pushing for increased military spending by NATO.
Taxes
Similar to the previous presidential debate, the candidates clashed over their tax returns on Thursday.
Trump raised unfounded allegations that Biden has received funds from Russian sources. The president previously alleged that Biden's son, Hunter, received $3.5 million from Russian billionaire Yelena Baturina, who was married to the late Moscow mayor. A statement from Hunter Biden's lawyer has called the allegations false.
In response to the claim, Biden noted that he's released 22 years of taxes.
"I have not taken a penny from any foreign source ever in my life," Biden said, who then told Trump to "release your tax returns or stop talking about corruption."
Trump responded that he aims to release his returns "as soon as we can." Since he first ran for president in 2016, Trump has claimed that he can't release his returns because his taxes have been under audit by the Internal Revenue Service.
The New York Times reported last month that Trump paid $750 in federal income taxes in 2016, the year he was elected president, and again in 2017, his first year in office. The report said Trump paid no federal income taxes for 10 of the 15 years before that.
The president responded to the report during Thursday's debate, saying he was told he "prepaid tens of millions of dollars," and that the $750 he paid was a "filing fee."
But Biden again called on Trump to release proof. "Show us," Biden said. "Stop playing around."
Ukraine and China
Trump has been promoting an unconfirmed New York Post report from last week that cites an email in which an official from the Ukrainian gas company Burisma apparently thanks Hunter Biden, who served on the company's board, for arranging for him to meet then Vice President Joe Biden during a 2015 visit to Washington, D.C. 
The Biden campaign has rejected Trump's assertion of wrongdoing and notes that Biden's schedule did not show a meeting with the Burisma official.
RELATED: Trump to bring Hunter Biden associate Tony Bobulinski as guest to final presidential debate
During Thursday's debate, Trump said the former vice president's son drew a large salary from the Ukrainian firm. Biden responded that the accusation had been investigated repeatedly and did not link him to any wrongdoing. 
Biden also noted that the president was impeached for attempting to pressure the president of Ukraine to find potentially damaging information on the Bidens.
China was also a topic of discussion after the New York Times reported this week that Trump held a Chinese bank account. The foreign account does not show up on Trump's public financial disclosures, where he must list personal assets, because it is held under a corporate name. The president also maintains bank accounts in Britain and Ireland, according to a Times analysis of the president's tax records.
The Chinese account was controlled by Trump International Hotels Management LLC, which the tax records show paid $188,561 in taxes in China while pursuing licensing deals there from 2013 to 2015.
"I have many bank accounts and they're all listed and they're all over the place," Trump said during the debate. He said that the Chinese account in question was opened in 2013 and closed in 2015, "I believe," though it appears to still be open.
Alan Garten, a lawyer for the Trump Organization, previously told the Times that the company had "opened an account with a Chinese bank having offices in the United States in order to pay the local taxes" associated with efforts to do business there. He said the company had opened the account after establishing an office in China "to explore the potential for hotel deals in Asia."
"No deals, transactions or other business activities ever materialized and, since 2015, the office has remained inactive," Garten said. "Though the bank account remains open, it has never been used for any other purpose."
Health care
The Supreme Court on Nov. 10 is set to hear a challenge to the Affordable Care Act, which gives more than 20 million Americans health insurance coverage. 
Should the high court overturn the law, Trump said he would like to create a "much better health care. Much better. We'll always protect people with pre-existing (conditions)."
"I'd like to terminate Obamacare, come up with a brand new beautiful health care," he said.
Biden, who served as vice president in the Obama administration during the passage of the Affordable Care Act, said he aims to protect and build on the law. 
"What I'm going to do is pass Obamacare with a public option, and become 'Bidencare,'" he said. "We're going to make sure we reduce the premiums and drug prices by making sure that there's competition that doesn't exist now."
Race relations in America
On the topic of race relations in the country, Biden called Trump "one of the most racist presidents we've had in modern history" and noted that the president wouldn't condemn white supremacy during the last debate. 
Trump portrayed himself as a champion of the Black community, at one point calling himself, "the least racist person in this room." 
He accused Biden and former President Barack Obama of ignoring issues of racial justice and criticized Biden's work on a federal crime bill in 1994.
"You've done nothing but the crime bill which put tens of thousands of Black men in jail," Trump said. 
Biden said he's been trying to change drug sentencing laws that disproportionately harmed Black Americans and that the public knows his record. Trump touted criminal justice reform under his administration and opportunity zone bills he signed. 
"The fact of the matter is, there is institutional racism in America," Biden said.
Climate change
As the debate moved onto the issue of climate chance, Trump explained his decision to pull the U.S. out of the Paris climate accord negotiated in 2015, declaring it was an "unfair" pact that would have cost the country trillions of dollars and hurt businesses.
"We have done an incredible job environmentally. We have the cleanest air, the cleanest water, and the best carbon emission standard that we've seen in many, many years. And we haven't destroyed our industries," Trump said.
During a discussion about energy policy, Trump repeatedly claimed Biden's plan to tackle climate change and invest in green industries was developed by "AOC plus three," referring to New York Rep. Alexandria Ocasio-Cortez. Biden chuckled during much of Trump's answer and said, "I don't know where he comes from."
"I know more about wind than you do. It's extremely expensive. Kills all the birds," Trump said to Biden. "It's very intermittent. It's got a lot of problems."
Biden called climate change "an existential threat to humanity" and said with four more years of Trump in office, "we're going to be in real trouble."
"We have a moral obligation to deal with it. And we're told by all the leading scientists in the world we don't have much time," Biden said. He added that if elected, his administration would aim to invest in 50,000 charging stations on U.S. highways for electric cars. 
Biden said his action plan would create "millions of jobs."
Praise for the moderator
At one point during the debate, Trump offered praise to Welker as moderator. "So far I respect very much the way you are handling this, I have to say," he said. 
The statement came after Trump attacked her on Twitter over the weekend, stating she has "always been terrible and unfair, just like most of the Fake News reporters."
Just hours before the final matchup, Trump posted unedited video of interviews that he and Vice President Mike Pence gave to "60 Minutes" before its broadcast this weekend, claiming it showed "bias, hatred and rudeness."
In the footage, the president repeatedly told CBS interviewer Lesley Stahl she would not have challenged Biden in the same way.
"You wouldn't say to Biden what you just said to me," Trump told Stahl when she questioned his characterization of the economy prior to the pandemic. "If he had it, you would never say that to Biden."
After posting the video, Trump tweeted: "Tonight's anchor, Kristen Welker, is far worse! #MAGA."
Debate's impact?
In a contrast to the first debate, the two presidential contenders went more than 15 minutes before interrupting each other at Thursday night's event. 
The nonpartisan Commission on Presidential Debates announced changes this time around, with each candidate's mic being muted while the other delivered an opening two-minute answer.
RELATED: Commission adopts new rules to mute mics in upcoming debate
The candidates appeared on stage exactly 12.25 feet apart at the event, held at Belmont University in Nashville, Tenn., and audience members were required to wear masks. 
The final debate of the presidential election season has been thought to play a role in electoral outcomes, but this showdown was different given that more than 47 million people have already cast their ballots amid the ongoing pandemic and a rise in early voting.
Still, the event was a chance for voters who have not yet cast their ballot to decide which candidate would best fit the role of president of the United States. Biden currently leads in most national polls and has a narrow advantage in key battleground states.
To close out the debate, Trump and Biden presented different versions of what they would tell Americans who didn't vote for them on a hypothetical Inauguration Day. Biden declared that "our character is on the ballot."
"I'm an American president. I represent all of you, whether you voted for me or against me, and I'm going to make sure that you're represented," Biden said. "We're going to choose hope over fear. We're going to choose to move forward, because we have enormous opportunities to make things better."
Trump said if he's reelected, "we need to make our country totally successful."
"Success is going to bring us together. We are on the road to success, but I'm cutting taxes, and he wants to raise everybody's taxes. He wants to put new regulations on everything," he said. 
Trump also touted the country's economic growth "prior to the plague coming in from China" that sparked the coronavirus pandemic.
RELATED: 2020 presidential election: Where Trump and Biden stand on key issues, according to their campaigns
The Associated Press contributed to this story. It was reported from Los Angeles and Cincinnati.