Pumpkin patch honors Pasco County teacher who died from COVID-19
NEW PORT RICHEY, Fla. - This weekend, a Pasco County community will be remembering a teacher they lost to COVID-19. They're celebrating her life and legacy with the things she loved most, like pumpkins, hayrides and quality time spent together. 
This event is not only honoring her life, but it's also raising money to help keep local students learning and to keep their teachers teaching. 
Renee Dermott adored this time of year. 
"Pumpkin patches and fall and Halloween was just her thing," said Renee's husband, John Dermott.
PREVIOUS: Pasco County teacher taken by COVID-19 remembered for her love for all things fall
She lived for the warm feelings, the togetherness, and the kindness. 
"She just adored being happy and laughing and it was really not the big things for her, it was the small things," said her daughter, Madalyn Ziongas.
So, when people visit Gigi's Pumpkin Patch -- Gigi is what her grandkids called her -- there could be no better way to honor her life.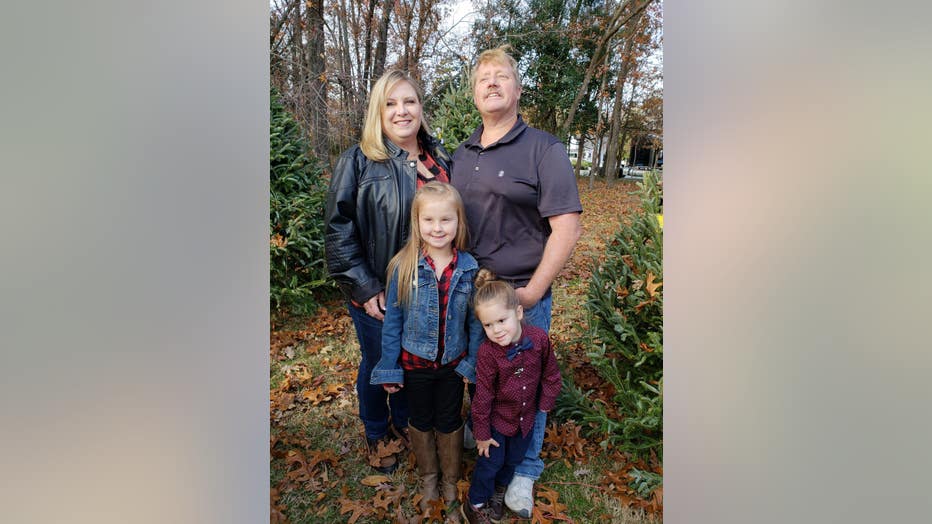 Pasco County teacher Renee Dermott and her family. Dermott died from COVID-19 ahead of the 2020-21 school year.
"This will blow her away, pumpkins in her honor," Ziongas said. "I can only imagine her face right now."
The Seven Springs Middle School teacher died of cardiac arrest last year after testing positive for COVID-19. From the start of the pandemic, school workers like Dermott have been on the front lines, determined to keep kids learning.
According to the Florida Education Association, since July of this year, we've lost 103 active educators to COVID. That includes teachers, bus drivers, coaches and custodians.
"She didn't care who she was talking to, the janitor at the school or the principal at the school, she loved everybody just the same," Ziongas said.
PREVIOUS: Pasco County middle school teacher dies after battle with COVID-19
To keep Renee's legacy of learning going, last fall, her family held a small community pumpkin patch in their yard. The $1,500 raised went to local teachers and started a scholarship fund.
"The kids, it always came back to the kids," Dermott said.
This year, they hope to give back twice as much. The patch is set up this weekend at St. George Greek Orthodox Church in New Port Richey with pumpkins for sale, a tractor ride, maze, face painting and games.
"It's nice to be able to give a little bit back and to be able to remember Renee," Dermott said.
More than a year later, Renee's still teaching us what's really important. After all, a teacher's work is never done. 
"She was only 51 so, you know, don't take these moments for granted," Ziongas said. "Make memories and support one another. That's what I hope they take from this. Be happy."
If you'd like to visit the pumpkin patch, the festival runs from 8 a.m. to 8  p.m. Saturday and Sunday at 9426 Little Road in New Port Richey.