Reward offered after 3 horses stolen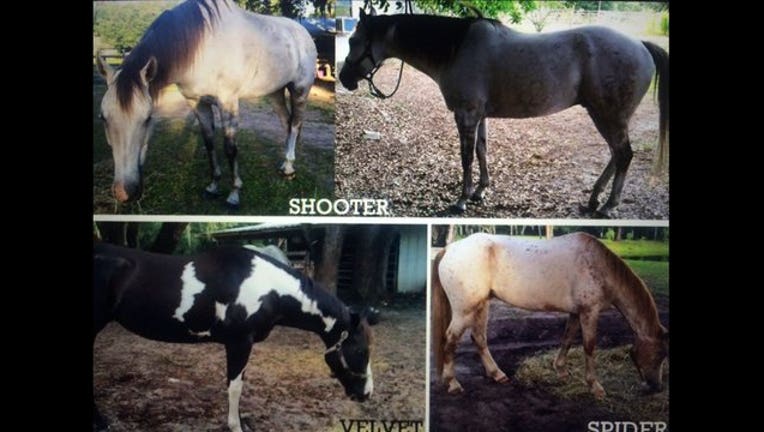 SARASOTA (FOX 13) - Michelle Gaster is at her lowest point.  Three of her horses -- Shooter, Velvet, and Spider -- were stolen from a pasture off Dog Kennel Road in eastern Sarasota County.
"It is like one of my kids being taken. That is how I feel," she said.  "They are my therapy. They are people for therapy who have had rough days. When you've had a bad day they are the best thing."
Gaster even had plans for her horses to work with kids in need.  The horses had only been in their new pasture for 10 days.  She moved them there to fix up her land.
"Where they were at was temporary, for four to six weeks, as I seeded a pasture and was trying to get the grass to come back," she explained.
The sheriff's office said someone took the horses from their pasture between Sunday around 4 p.m. and Tuesday around 2 p.m.  A possible suspicious vehicle was seen during that time -- a white dually pickup truck pulling a red stock trailer.
"They took advantage of the area," observed Captain John Jernigan.  "It's a dead-end road. There is very little activity out there for the most part."
The disappearance comes two weeks after a horse in Manatee County was slaughtered, presumably for its meat.  No one has been caught in that case, which causes Gaster's fear to grow.
"I am concerned that someone tried to take them and go to Miami with them. I don't know. I'm just dumbfounded. I'm lost," she continued.
Sarasota and Manatee County deputies are comparing notes, but Captain John Jernigan is hopeful Gaster's horses will be found alive.
He is asking everyone to take a good look and keep their eyes open.
"The pictures are very identifiable. They have unique markings. Horse owners know their horses very well," he said.
Gaster is offering a $1,000 reward for their safe return.
"I don't care how they bring me my horses back. No questions asked, I'll hand them the money. I just want them back," she added.
If you have information you are asked to contact 941-861-4934.