Scalise discharged from hospital, beginning rehabilitation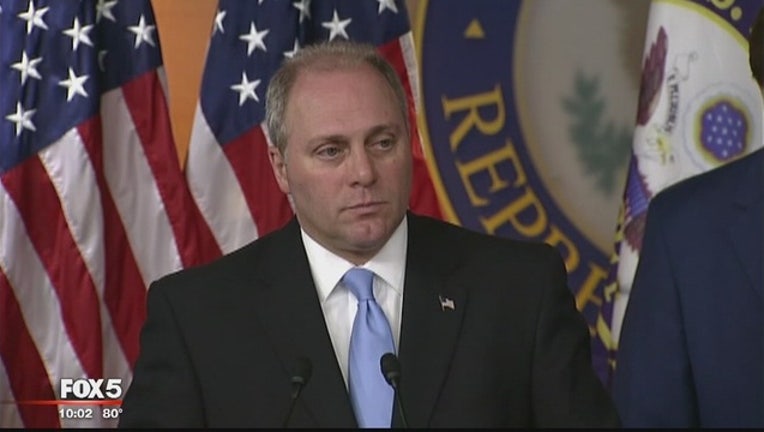 article
WASHINGTON (AP) - House Majority Whip Steve Scalise, who was critically wounded in a shooting at a baseball practice last month, has been discharged from a Washington hospital.
MedStar Washington Hospital Center said Wednesday that the six-term Louisiana Republican was released from the hospital on Tuesday and is beginning "intensive inpatient rehabilitation." It did not identify the rehabilitation facility.
"Congressman Steve Scalise has made excellent progress in his recovery from a life-threatening gunshot wound six weeks ago," the hospital said.
Scalise was in good spirits and looking forward to returning to work once he completes his rehabilitation, according to the hospital. On Monday, Scalise phoned in to the weekly GOP whips meeting, thanking everyone for their hard work and expressing appreciation for U.S. Capitol Police.
Scalise and four other people were injured June 14 when a gunman opened fire on a Republican baseball practice in nearby Alexandria, Virginia. U.S. Capitol Police and other officers returned fire and killed the gunman. The rifle-wielding attacker had nursed grievances against President Donald Trump and the GOP.
The 51-year-old congressman was struck in the hip and the bullet tore into blood vessels, bones and internal organs. He has had several surgeries.
Scalise's trauma surgeon, Dr. Jack Sava, told reporters last month that Scalise had arrived at the hospital in shock, with intense internal bleeding and "an imminent risk of death."
Later Wednesday, the House approved a nonbinding plan that would allow lawmakers to use their taxpayer-financed office budget to be used to pay for security improvements such as alarm systems at their homes, so long as they don't represent structural improvements to the property. The move was motivated by security concerns highlighted by the Scalise shooting.