'Stay at the Scene' campaign launched in Florida to bring awareness to hit-and-run crashes
TAMPA, Fla. - Hit-and-run crashes are a big problem in Florida with an average of 103,000 of them happening per year. 
The Florida Department of Highway Safety and Motor Vehicles (FLHSMV) launched its "Stay at the Scene" campaign for Hit-and-Run Awareness Month, which began on February 1. 
Last year, there were almost 105,000 hit-and-run crashes across our state. Just over a thousand resulted in serious injuries and 266 crashes had deaths.
READ: Sarasota police search for two drivers responsible in two separate deadly hit-and-run crashes
The year before was higher at almost 110,000 hit-and-run crashes with over 1,100 serious injuries and 305 deaths. 
One hundred and forty-four hit-and-run deaths last year were pedestrians and 50 were bicyclists, according to the FLHSMV.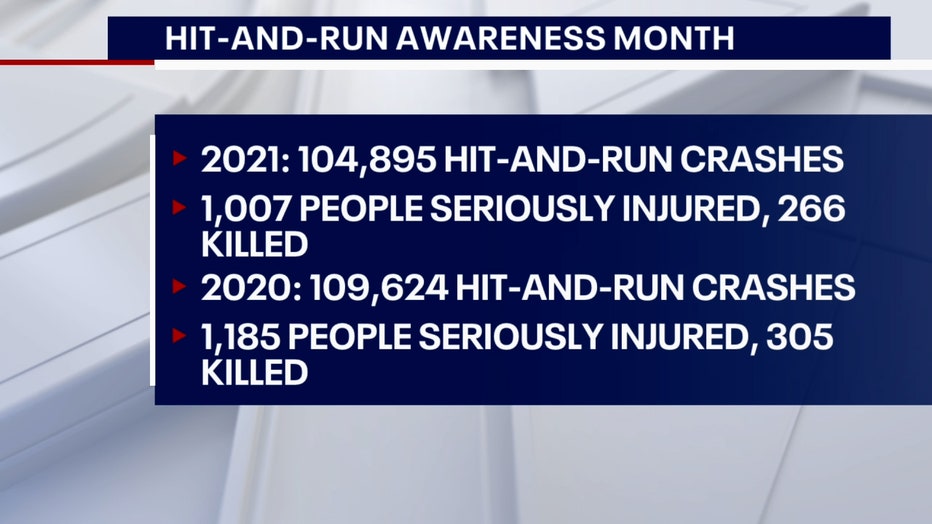 "A couple years ago, we had a triathlete racer that was out on a training ride early in the morning, no cars around, then a car came by and hit him, and it was a fatal accident, and that car kept on going," said Denis Perry, the service manager of Treks Bikes.
He said there are a lot of things cyclists can do to make sure cars see them.  Cyclists have special hand signals, they can wear bright colors, and have lights on their bikes instead of only having reflectors. They're gadgets that can save a life, but if a crash happens, drivers are asked to stop. 
MORE: Florida high school principal accused of keying car in Publix parking lot
"Please stop and just make sure the rider is okay. Work with the rider, work with the group and things will be a lot better off in that situation," Perry said.
There are huge consequences for drivers who don't stop. If there's property damage, leaving the scene is a second-degree misdemeanor with a fine and potential jail time. If a driver hurts someone and drives away, it's a second or third-degree felony, the driver's license will be revoked, and there's a large fine and prison time.
If a driver kills someone in a hit-and-run crash, it's a first-degree felony and a minimum of four years in prison with a fine of up to $10,000.