'Strange discovery' in SF: Several baseball bats found chained to poles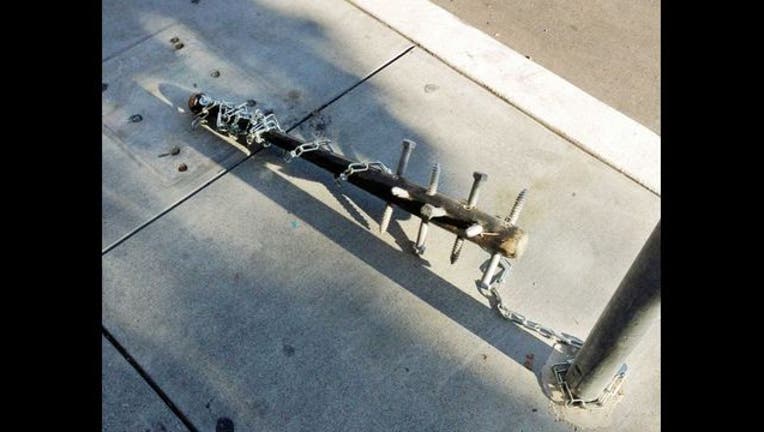 article
SAN FRANCISCO (KTVU/BCN) - Police are investigating why a set of wood and metal baseball bats were chained to telephone poles and parking meters around San Francisco on Thursday. 
Police said as many as 15 of these bats, some of which had nails protruding from them, were found in a number of locations around the city. Sgt. Michael Andraychak updated that number to as many as 27 by Friday afternoon. 
SFPD began to receive reports of the baseball bats on Thanksgiving Day morning.  These are wood or metal baseball bats that have "spikes" that have been run through bats.  
Andraychak said he's been in law enforcement 20 years and he's never seen anything like this and called it "odd".  "It's also San Francisco. Nothing tends to surprise me anymore," he said. 
The most recent discovery of the strange items was Friday morning in the Fishermen's' Wharf area. Bats were previously discovered throughout Thursday, beginning in the morning, with another found around 4:45 p.m. at 19th Avenue and Buckingham Way, Andraychak said.
Andraychak said there are no indications currently of who placed the bats or why. Police are investigating various aspects of what Andraychak described as a "very strange" episode.
Possession of one of these bats is considered carrying a deadly weapon according to SFPD. Police said at this point they are interested in the motive behind the bats, whether it be art, humor or something more malicious. 
SFPD is investigating this series of incidents.  Anyone with information is asked to call the Anonymous Tip Line at (415) 575-4444 or Text a Tip to TIP411 and begin the message with SFPD.