SunRunner hoping to add three new buses as it gains popularity
ST. PETERSBURG, Fla. - About seven months since it launched, the SunRunner is hoping to expand. PSTA said because it's so popular, their board members approved the purchase of three new buses on Wednesday, for the service that takes riders from downtown St. Pete to St. Pete Beach. They are expected to be on the road next spring. 
Since it launched in October, Communications and Public Relations Manager Stephanie Rank said, more than 633,000 people, from residents to visitors, have ridden the SunRunner. More than 115,000 people rode it in March alone. 
"Originally, we thought two would be the best, but then seeing the numbers again, we're like, three is the best when it comes to meeting the needs for, like I said, capacity and special events, even Rays' games," Rank said. "We've seen numbers jump when the Rays are playing at home."
RELATED: SunRunner bus service set to expand, add new station in St. Pete
The three new hybrid electric buses totals about $3.12 million. Rank said PSTA plans to use leftover federal dollars from the original SunRunner project that came in $5 million under budget. 
"These additional buses will help us keep our 15-minute frequency during the day, and that's very important when it comes to a bus rapid transit system such as the SunRunner," Rank said.
She said they'd also help with the traffic from the new SunRunner station that's opening next year near the Sundial parking garage. If the board approves the purchase, the new SunRunner buses will be on the road by next spring.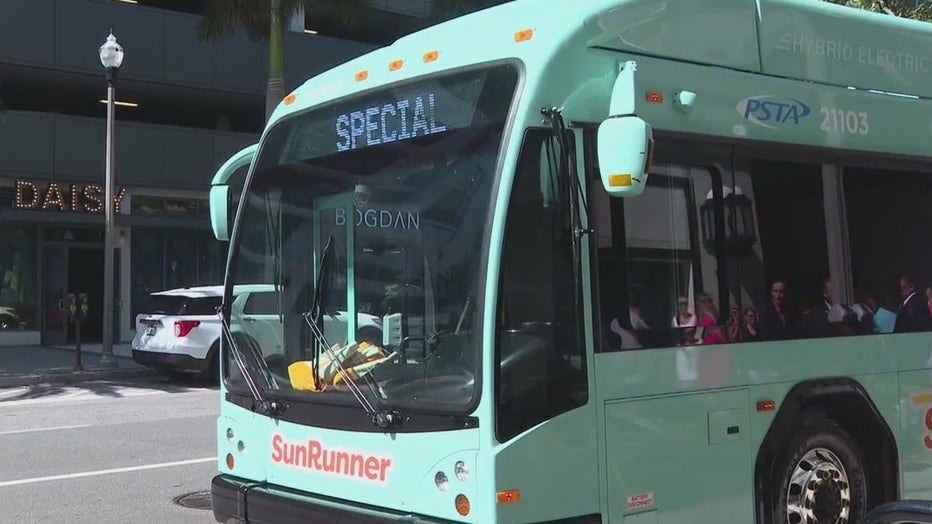 "It's incredible to see the community fully embrace the SunRunner. As more people get notice of how the SunRunner works, how to ride it, how to use it, they're using it in their daily lives, and we see that. We're seeing more people who choose the SunRunner over taking an Uber, over taking their own car," Rank said.
PREVIOUS: More than 63,000 rode SunRunner in its first month of operation
The board also approved program that would let disabled veterans use any PSTA service for free starting Nov. 10. 
"They've used our system. We are in constant contact with the VA. A lot of veterans use our system and what better way to honor them for their service than to give them a free ride wherever they need to go in Pinellas County," she said.
Rank said USF students came to their March meeting and advocated for free rides for disabled veterans. The students also talked to Florida Representative Lindsay Cross from House District 60 who sent a letter to PSTA's board of directors earlier this month. In the letter, she supported the initiative to bring disabled veterans free access to transit.
"That may be the way that they get to their medical appointments, to their places of work, or just running everyday errands," Cross said. "And this is something that we as a community could get behind to help support them, and just another way we can thank them for their service," she said.
The program would cost $89,000 in lost fairs. Rank said they're looking at grants to help pay for it. The SunRunner is free for everyone though Oct. 31.