Tampa man (and Bolts fanatic) handcrafts replica Stanley Cup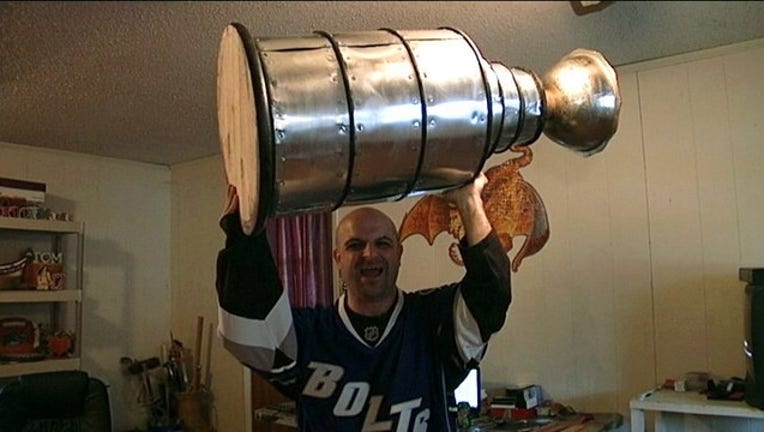 article
A Tampa man and Lightning fanatic has erected a handcrafted replica of Lord's Stanley's Cup, and he's finished the months-long project just in time for the playoffs.
Damon Dominguez is an amateur craftsman and has several impressive works at his makeshift art studio inside his west Tampa home.
"I have a dow. It goes from here," says Dominguez, pointing down at the Stanley Cup replica," all the way to here to make it nice and light."
"Light" is about 45 pounds, but Dominguez is strong enough to lift it above his head, "Let's go Lightning! Tonight's our night," he yells as he lifts the cup.
It's a hobby for Dominguez, who is passionate about Bolts hockey, Bucs football, and the Florida Gators. He built the Stanley Cup replica by handcrafting a wooden base, then fastening steel onto the outside of the structure.
The process of designing and building it took a few months of work.
"You can't rush art," he said. "Art does not have to be perfect."
Some of his other handcrafted projects include his take on the Vince Lombardi trophy, SEC Championship trophy, and even his very own Florida Gators wrestling belt.
Some of them he's sold, others he just keeps for fun.
But his pride and joy is his latest accomplishment – that Stanley Cup replica. He plans on bringing it down to show off outside of Amalie Arena this playoff run, and he hopes it brings his beloved Bolts some good luck.
"The reason why I make these championship trophies, the replicas, the belts – it really lights up the fans," he said. "It does, and the fans love it."