Tampa officer shoots, injures man who pointed gun, officials say
TAMPA, Fla. - Neighbors heard gunfire late Monday night at the Bowery Bayside Apartments on South Westshore Boulevard in South Tampa. What led up to it was caught on video through a Ring doorbell and also a Tampa Police Officer's body camera. 
The doorbell captured video of a man pounding on a woman's apartment door while hiding something behind his back. 
"Thankfully, before we arrived she was able to review her Ring video and see that the gentleman had a gun in his hand while knocking on her door," said Asst. Chief Ruben Delgado of the Tampa Police Department.
When officers arrived, one of them recognized the man in the video from previous encounters, 27 year-old Jeremy D. Liwag. They went to his apartment in the same complex to talk with him. 
What happened next is shown on one of the officer's body camera.
After exchanging a few words at his door, Liwag appears to raise his gun toward the officers. One of officers fires his gun, hitting Liwag in the bicep and abdomen, according to police.
"I heard three quick gunshots like bang, bang, bang! Unmistakable sound," said neighbor Jon Kolbinsky. "I knew it wasn't fireworks so I put my girlfriend on the ground."
Neighbors we talked with said they don't know Liwag, but they knew something serious was happening Monday night.
"As I opened the front door, a police officer was running down the stairs and he said, 'Get inside your apartment and lock the door!' So I was like OK," said Clare McMahon. She says other than car burglaries there has been no crime here lately.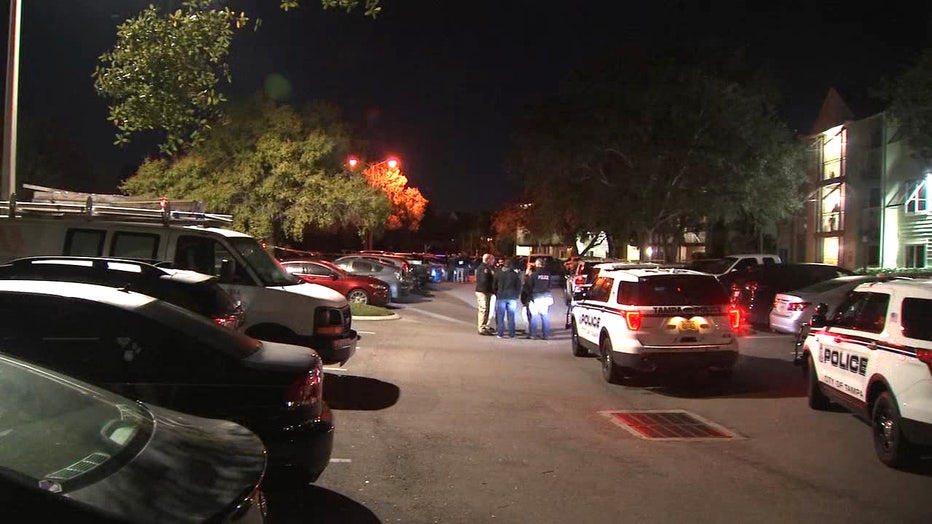 The officer who shot the suspect, a six-year veteran, is on administrative leave, which is standard procedure in these cases. TPD did not identify the officer; the Florida Department of Law Enforcement is investigating. 
Tampa police haven't said why they believe the suspect was pounding on doors with a gun. They say charges are pending.