Tax 'holiday' teed up for back-to-school shoppers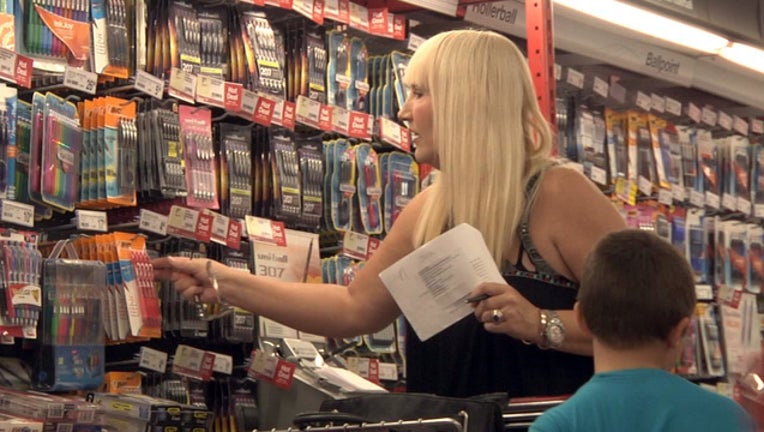 article
TALLAHASSEE (NSF) - With Florida's back-to-school sales tax "holiday" starting Friday, some retailers may face an enthusiasm dip as laptops and other electronics are not on the discount menu.
But as giant retailers such as Walmart and Target offer their own wide-ranging discounts, state economists and industry lobbyists don't foresee much difference from past years as parents and other shoppers are still expected to rush out for a weekend of savings on clothes, footwear and school supplies.
"Without technology, I think some of those retailers may not push it as hard. But we still expect it to be popular," said James Miller of the Florida Retail Federation. "It's always one of the biggest things we hear about from our members and from the consumers."
The three-day tax holiday, which will run from Friday through Sunday, will allow shoppers to avoid paying state and local sales taxes on most clothes and footwear costing $60 or less and school supplies that cost $15 or less.
LINK: More details and itemized list of supplies
However, this will be the second time in six years that electronics are not in the offering.
Early proposals this year in the Legislature would have offered a 10-day holiday, as requested by Gov. Rick Scott, with taxes lifted on the first $1,000 of the cost of personal computers and related accessories.
But as lawmakers shifted budget priorities after the Feb. 14 mass shooting at Marjory Stoneman Douglas High School in Parkland, a broad package (HB 7087) of tax and fee reductions was scaled down from a high of $618 million to a final amount of $171 million. And a proposal to extend the tax discount to computers was cut.
An estimate from state economists doesn't indicate the exclusion of computers from the tax holiday will alter the plans of families getting ready for the August start of the school year.
The holiday this year is projected to save shoppers $32.7 million, reducing state revenue by $26 million and local-government revenue by $6.7 million.
In 2017, when laptops were on the discount list, the overall savings stood at $33.4 million.
Miller said retailers will push for electronics to be included in any back-to-school discount period considered during the 2019 legislative session.
Lawmakers vote annually on the holiday, which has almost come to be an anticipated shopping period.
The state has offered the school tax holiday 16 times since 1998. The discount period went away a decade ago during the recession. Since being revived in 2010, it has been held annually. Other than in 2015, when the discount period was extended to 10 days, the holiday has lasted for three days.