Tampa airport's giant flamingo finally has a name after month-long contest
TAMPA, Fla. - The larger-than-life flamingo at Tampa International Airport has greeted thousands of travelers and taken an endless number of photos with them, but during all that time, it didn't have a name. 
That all ends now. Say hello to: Phoebe.
It was submitted by Bryan M., a 63-year-old retired educator, who wrote the following with his submission: "A play on Phoenicopterus - the flamingo's scientific name 'Phoebe' is also a playful alliterative to flamingo and means brilliantly inquisitive. The overall 'Home' sculpture is literally brilliant and reveals the flamingo's inquisitiveness as it hunts for food in the shallows."
Airport officials held a naming contest for the 21-foot sculpture that has taken an endless number of pictures with travelers. They received more than 65,000 entries and narrowed it down to three: Cora, Finn, and Phoebe.
Members of the public were then invited to choose their favorite. The airport says it tallied over 37,000 votes from all around the world to determine the winner.
Finn received 6,779 votes while Cora received 14,341 total votes. Phoebe received 16,122 votes.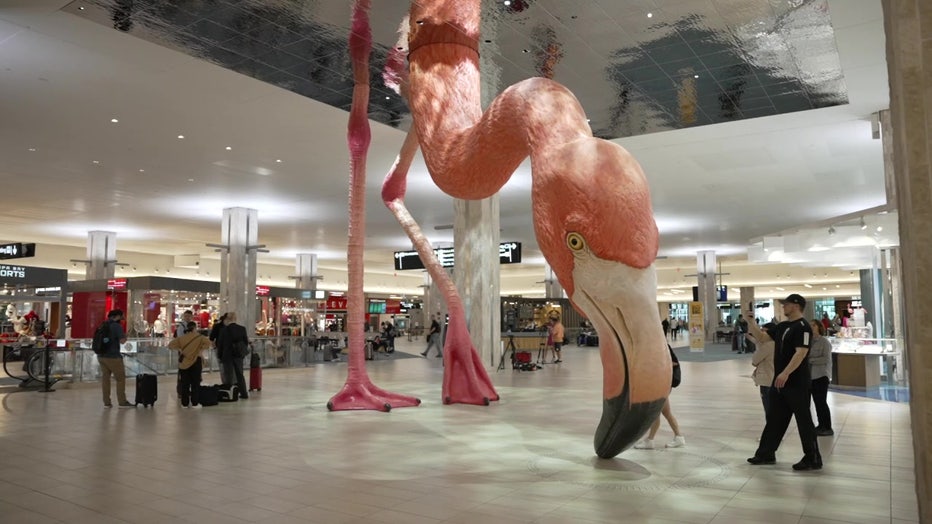 The sculpture, called "HOME," by Matthew Mazzotta, was first teased three years ago, but construction was delayed by the pandemic. Installation began last year.
With metal panels and lighting attached to the ceiling, it gives the illusion of being underwater while gazing up at the flamingo, which appears to be poking its head beneath the surface.
RELATED: Jokes and travel tips: Who is behind Tampa International Airport's social media accounts?
Now, its name is the finishing touch. The winner of the naming contest will take home the following prizes:
4 nonstop, round-trip tickets for themselves and three companions on Silver Airways
A VIP Experience package to Busch Gardens, including 4 single-day admission tickets, 4 All-Day Dining passes, 4 Quick Queue Unlimited passes, and preferred parking
A chance to "bask in the limelight" at a reveal event for the flamingo's new name in TPA's main terminal