Two passions turn into local jewelry business, Cori Rose Handmade
TAMPA, Fla. - When Nicki Turner first put her hands on polymer clay, the light bulb went off. Her immediate thought: "Wow, that can, I make with this?" 
She made charms for her family to start, then came earrings. After posting photos on social media, friends and family encouraged her to sell them. Three years later, she now runs Cori Rose Handmade. 
"I started selling them on Instagram and then that turned into an online store and then that turned into pop-ups, and so that's kind of what I've been doing the last year," Turner said. 
MADE IN TAMPA BAY: Local prop maker brings love of filmmaking, special effects to 'Fireblade Comics'
Turner loves color, specifically cover combinations. That passion serves as the catalyst for many of her jewelry creations. 
"I feel like colors evoke so much emotion on us, and sometimes we don't even realize it," she said. 
Colors are the first decision. Sometimes Turner knows the palette she wants to use and then sometimes, she creates on the fly.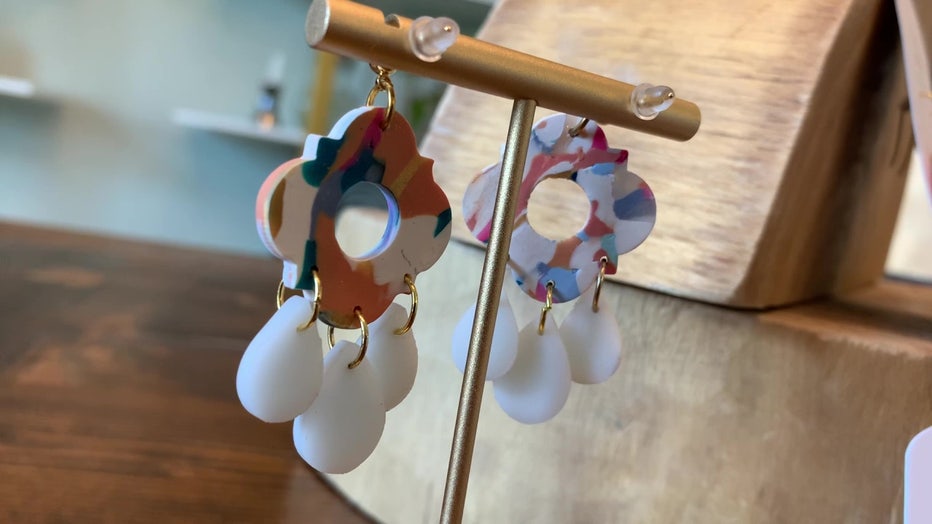 "One of the most fun things about this process is you can never tell, like while you're working on it, how the end product is going to work out," Turner said. 
MORE: Clearwater jewelry maker transforms found items into wearable works of art
An added benefit of her business is sharing the creative process with her children. Turner loves talking with her kids about being an entrepreneur. The kids even make suggestions on color combinations and even bestsellers. 
"It's just fun to do this and invite them into the process however much they want to be involved," Turner said. 
Along with pop-ups, Turner has also partnered with artist Ashley Cassens, who incorporated Turner's earrings into her portrait collection "Eye Traps" last summer. 
RELATED: Lifelong artist turns her art into full-time business
As for the future, Turner just introduced monthly subscription boxes. 
"I was drawn to that because I want them to feel special, to have a surprise box that comes in the mail," Turner said.