Lakeland teen dies after Sunday morning hit-and-run crash
LAKELAND, Fla. - It was a day that most of us were celebrating our nation's independence, but two Polk County families are going to remember this July 4th as a day tragedy struck.
Polk County detectives are now looking for the driver of a truck that hit two teen girls.
Shana Blair's family says she was a happy 14-year-old kid; an Advanced Placement student looking forward to going to Kathleen High in a few months. But investigators say that will never happen now because of the driver of a white Ford F-150 that hit her and took off.
It was caught on surveillance video moments after investigators say it hit Shana and her friend around 9:30 p.m. near Old Tampa Highway and Clark Road.
When Shana's dad found out, he raced to St. Joe's Hospital.
"I was praying the whole time, 'let this not be serious,'" Anthony Cogswell recalled.
But it was. 
Her injuries were extensive. Both of her legs and one arm were broken. She had lacerations and a traumatic brain injury.
"Finally, they let me in her room after they got her hooked up and everything like that. I just kind of knew there was no way she was going to recover from that," Cogswell said.
Detectives are now looking for the pickup truck driver.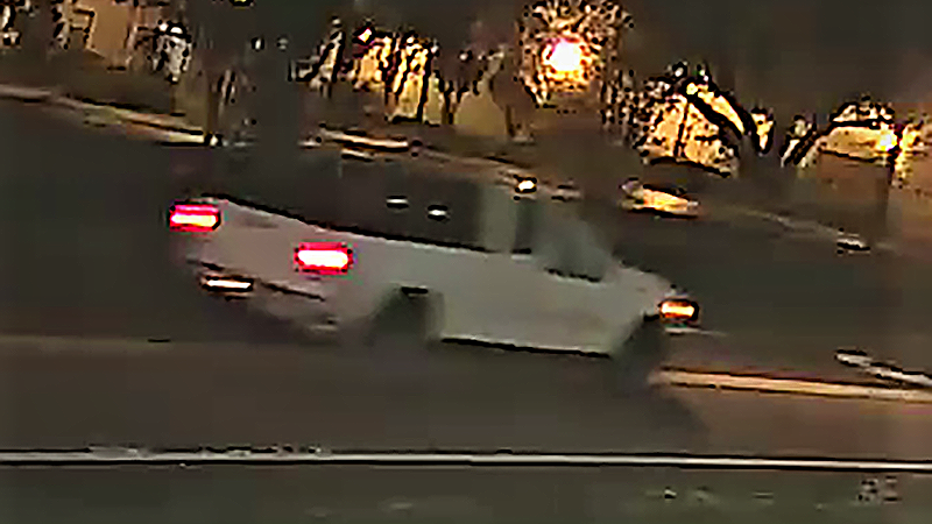 White F-150 believed to have hit and killed a teen in Lakeland
"How do you live with yourself when you have left her for dead on the side of the road? That's what they did," said Polk County Sheriff Grady Judd.
Shana's friend was not severely injured.
Shana died two days after being hit.
"All I want is my baby girl. Yeah. That's all I want," Cogswell said.
Investigators want to find the person who took her life. 
Detectives said they found some evidence at the scene related to the white Ford F150 (1997-2003). The truck should have damage to the grill and possible additional front-end damage.
Heartland CrimeStoppers is offering a $5,000 reward for information leading to an arrest.
If you have any information that could help in identifying or locating the truck and/or the driver, please call the Polk County Sheriff's Office at 863-298-6200.
If you wish to remain anonymous, you can contact Heartland Crime Stoppers:
Call 1-800-226 TIPS (8477)
From your cell phone, dial **TIPS
Or visit the website www.heartlandcrimestoppers.com and click on "Submit A Tip," or download the free "P3tips" app on your smartphone or tablet.
An online fundraiser has been set up to help Shana's family with expenses.