Tyndall Air Force Base sustains 'catastrophic' damage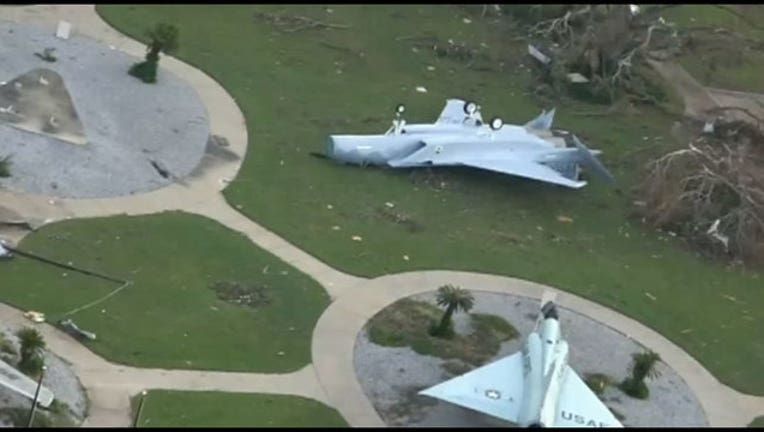 article
PANAMA CITY, FL - Tyndall Air Force Base in Florida is closed while officials assess what they're calling "widespread catastrophic damage" from Hurricane Michael.
No injuries were reported, but "nearly every home" on the base sustained roof damage. Tyndall, located just east of Panama City, is closed until further notice.
Before the storm, the base's personnel secured all aircraft in the hangers, which are all damaged.
"We anticipate the aircraft parked inside may be damaged as well, but we won't know the extent until our crews can safely enter those hangars and make an assessment," Air Force spokeswoman Ann Stefanek said. 
The 325th Fighter Wing flies the F-22 stealth fighter, the most expensive fighter jet in the Air Force's arsenal.
Base leaders said they are working with Air Force leadership to develop a short-term plan for the airmen who are stationed there and their families.
"Today is better than yesterday and that is how it is going to continue to be," Col. Brian Laidlaw, 325th Fighter Wing commander, said Friday. "We will continue to persevere."
Laidlaw said that the base's relocated residents and personnel should stay away until the base is safe. Recovery teams began arriving Friday.
"I will not recall you and your families until we can guarantee your safety. At this time I can't tell you how long that will take, but I'm on it," Laidlaw wrote. "We need to restore basic utilities, clear our roads of trees and power lines, and assess the structural integrity of our buildings. I know that you are eager to return. I ask you to be patient and try to focus on taking care of your families and each other."
"Tyndall Airmen and their families who need assistance and support can find information about TRICARE services, funding advances, vouchers, and benefits and entitlements at www.AFPC.af.mil/hurricane," the Air Force said in a written update. "Information about resources is also available by calling 210-565-0102."
Aerial video by WXChasing showed massive destruction, including a plane that had been on display flipped onto its top.
With the AP