Universal Orlando gives sneak peek at new Jurassic World VelociCoaster
ORLANDO, Fla. - Get excited theme park fans!
On Friday, Universal Orlando released a sneak peek at its upcoming Jurassic World VelociCoaster, which will open in summer 2021. 
In a video posted to social media. Universal reveals what the ride vehicle will look like as you're propelled at 70 mph on the coaster.  
The thrill ride is currently under construction at Universal's Islands of Adventure.  Universal's described the ride in a press release sent to FOX 35 News: 
"This new species of roller coaster touts a series of intense maneuvers that will send guests catapulting up to 70 mph and more than 150 feet in the air with the swiftest of prehistoric predators. 
"That's an impressive looking train there," said Seth Kubersky, co-author of the Unofficial Guides book series.
The video reveals the train with bright LED lights and no shoulder restraint.
"This is going to flip you upside down with nothing but a lap bar and physics holding you into your seat," Kubersky added. "The ride is going to have two high-speed launches and from what I hear at least one of them is going to have special effects involving velociraptors," said Kubersky. 
We showed the video to coaster enthusiast Eric Rummeles
"It looks powerful, for sure, yeah, it looks cool, I like the LED lights on it," said Eric Rummelles, roller coaster fan.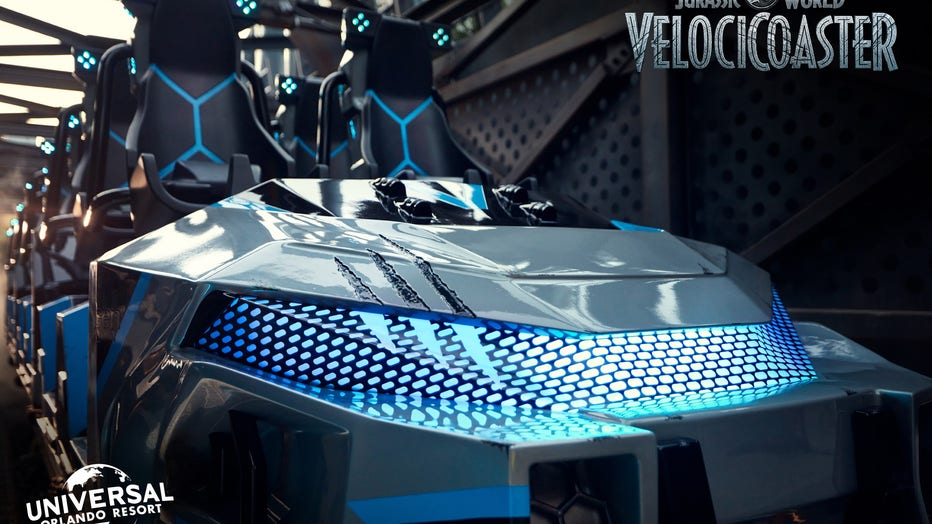 MORE NEWS: Universal gives sneak peek, opening date for Super Nintendo World
The  Jurassic World VelociCoaster will be the world's first coaster based on the blockbuster franchise and will feature an original story "that expands upon the thrills, dinosaurs, and environments fans have seen on the big screen.
MORE NEWS: Universal Orlando previews Halloween Horror Nights house for next year
"Guests will join the original cast of the films – Chris Pratt as Owen Grady, Bryce Dallas Howard as Claire Dearing and BD Wong as Dr. Henry Wu – as Jurassic World unveils the next evolution of its 'carnivore expansion' the VelociCoaster, where riders embark on a high-speed chase and feel the rush of the hunt while racing alongside a nimble Velociraptor pack," the park explained.  
Spanning more than 4,700 feet of track and reaching heights of up to 155 feet, the coaster's signature maneuvers will have guests twisting and soaring above land, and barrel rolling just inches above the water.  
Universal says get ready to:
Accelerate through two pulse-pounding launches, the fastest reaching 70 mph in 2.4 seconds
Encounter a one-of-a-kind, 360-degree barrel roll right above the Islands of Adventure lagoon
Experience a zero-gravity inverted stall that will send riders upside down across 100 feet of track in a jaw-dropping maneuver that is the first of its kind
Go airborne during the towering "Top Hat," which propels riders 155 feet in the air and then immediately into an 80-degree drop – Universal's steepest drop yet
Brace for a total of 12 heart-pounding seconds of airtime – the thrilling sensation of weightlessness riders feel when they're lifted from their seats – throughout the entire adventure
But how is Universal investing in such a big-ticket ride, while cutting jobs and reporting financial losses?
"Big capital projects like this are budgeted out, years in advance. I'm sure the decision to spend money on this rollercoaster was made well before the pandemic," explained Kubersky. "At a certain point, once you've invested in a project, it makes more sense to keep going."
The other reason this project may be important for Universal? Being ready for when tourists return in force.
"The percentage of people who are spending their time and dollars at universal has steadily grown over the years," said Kubersky.
With Disney World investing in several major attractions, Kubersky says, Universal needs to keep up.
"If Universal loses all the momentum that they spent a decade building up, then it could be another 10 years before they have a chance to really go toe-to-toe with Disney again," said Kubersky.
The VelociCoaster is set to open in the summer of 2021.