USF Police officer to street preacher: 'You're going to get the concrete if you don't shut up'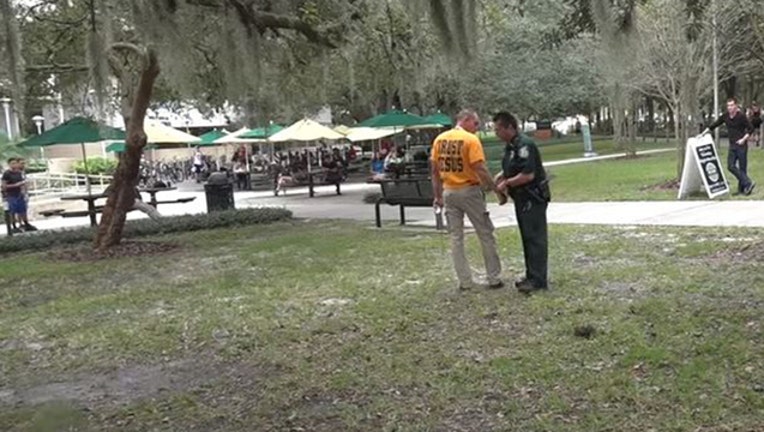 article
TAMPA (FOX 13) - Adam LaCroix was using a sound amplifier to preach on the University of South Florida's campus on November 19. He says he had not been there long when a USF police officer walked up and started putting handcuffs on him without warning.
"Sorry to have to inform you that you're being detained for an offense involving the, uh … " the officer can be heard saying in a video of the incident posted on YouTube this week.
"Hey, you have my arm here," LaCroix says.
As the officer starts walking, LaCroix complains the handcuffs are hurting him. The officer, Philip Eonda gives him a warning.
"You're going to get the concrete if you don't shut up," he's heard saying in the video.
LaCroix says he and his fellow street evangelists regularly record their preaching activities in case they are accused of illegal activity.
USF does not have any policies on sound amplifiers being used by the public on campus and members of the public do not need permits to exercise free speech.
Eonda's police report tells a narrative that contradicts with what can be heard on the video.
"I advised LaCroix I was detaining him per FSS 877.13 and was placing him in handcuffs for my protection," Eonda wrote in the police report.
FSS 877.13 is a statute about "knowingly" disrupting or interfering with the functions of an educational institution.
The video does not show Eonda saying either of those things as he puts LaCroix in handcuffs. However, students can be heard in the video cheering, as if to praise the officer.
"Sometimes people are upset about the message. They don't want to hear it and they try to shut down the speech. They may not do that," said Charles Haynes, Vice President of the Newseum Institute and a First Amendment expert with the Religious Freedom Center in Washington D.C.
Street preachers' messages can be annoying, obnoxious or even offensive. Haynes says just because people do not want to hear a message does not mean an individual's free speech rights can be taken away. However, no rights are absolute, Haynes said. 
"If they're disrupting the school, if classes can't go on because there's too much noise, there may be an opportunity for the government to come in and say, 'you may have your speech, but you can't do it that loudly,'" Haynes explained.
LaCroix says he understands that.
"I told the officer, once we got back to the cop cars, that if he had just approached me and discussed with me his concerns, I would have been more than happy to work with him or accommodate his request," he said.
In a phone interview with FOX 13 News, Meg Ross, a captain with USF police, refused to address the apparent contradiction between the video and the officer's report.
"Editing can be done very professionally. I can't tell you whether it was edited or not," Ross said. "The officer wrote a very thorough report and we stand by what the officer's actions are." 

When asked about officer's comment about LaCroix getting "the concrete" if he didn't "shut up," Ross said she wouldn't comment on it. She also said she had no plans to look into the officer's handling of the incident.
Eonda writes in the report FSS 877.13 "prohibits using amplification of noise which disrupts a school function."
The state statute does not say anything about amplifiers. It does, however, say a person can't knowingly disrupt  or interfere "with the lawful administration or functions of any educational institution, school board, or activity on school board property in this state."
The USF police report says campus police had three disturbance calls earlier that day. Ross says two of them involved street preachers. None of them, however, were complaints about LaCroix.
LaCroix knows not everyone finds his method of hellfire-and-brimstone preaching appealing.
"We don't hold anyone hostage. It's a big campus," he said.
As for why he uses a method of street preaching that is difficult to ignore, he says there is a reason.
LaCroix said he was heading down a path destined for a life of drugs and addiction when he heard a street preacher outside a bar. LaCroix said he got in the preacher's face. Then he listened to the preacher's message and said his life changed.
He said he wants to give someone else the same opportunity. He called his message "urgent."
He said people can choose whether they listen to it or not.
"Most of the time, they'll either stop and listen or put their headphones in and keep studying," he said.