Utah Department of Wildlife drops fish from plane for 'extreme restocking' of lake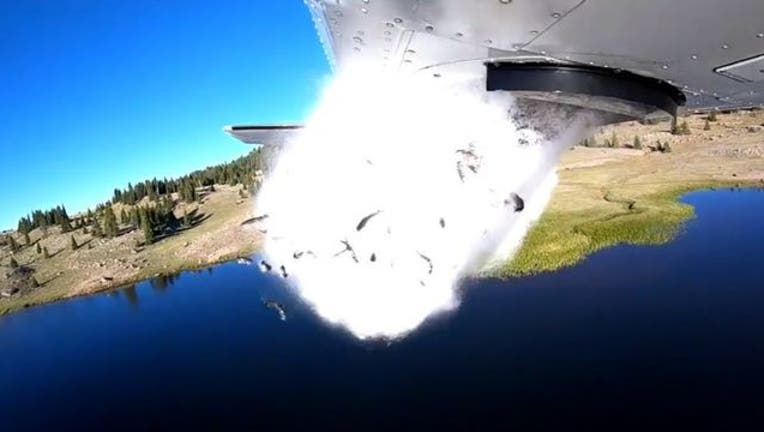 article
FOX NEWS - It's not that uncommon to rain cats and dogs, but have you ever seen it rain fish?
Dozens of tiny trout fell from the sky in Utah, dropping from a plane into the crystal blue mountain lake below as part of the area's "extreme fish stocking" efforts.
The Utah Division of Wildlife Resources posted a short video of the bizarre practice on Twitter last week, which shows the fish raining down from the aircraft's underbelly in a gush of water.
While the steep fall might look deadly, turns out that 95 percent of the fish survive the plummet thanks to their small size of about one to three inches, according to officials.
Typically, fish stocking is mostly done by trucks with holding tanks that carry the fish to a lake or stream, where they are then dumped into the water via pipes.
In centuries' past, horses were used to pack in metal milk cans filled with fish and water to more remote areas. But by the 1950s, small airplanes became the preferred method, one that is still utilized today, UDWR biologist Matt McKell explained in a blog post.
Fish rained down from the sky in northern Mexico last year, though this instance wasn't intentional. Small fish accompanied a light rain in Tampico in September.
According the U.S. Library of Congress, it's a phenomenon that has been reported since ancient times. Scientists believe that tornadoes over water — known as waterspouts — could be responsible for sucking fish into the air where they are blown around until being released to the ground.