Venomous stingray impales Apollo Beach woman wading in water: 'I was certain I was going to die'
RUSKIN, Fla. - A sunny day at the beach turned into a week-long hospital stay for an Apollo Beach woman after she was punctured in the back on Tuesday by a stingray's venomous spine. 
Kristie O'Brien was visiting Ruskin's Bahia Beach with her husband when she decided to cool off and waded into the water, only about knee-deep.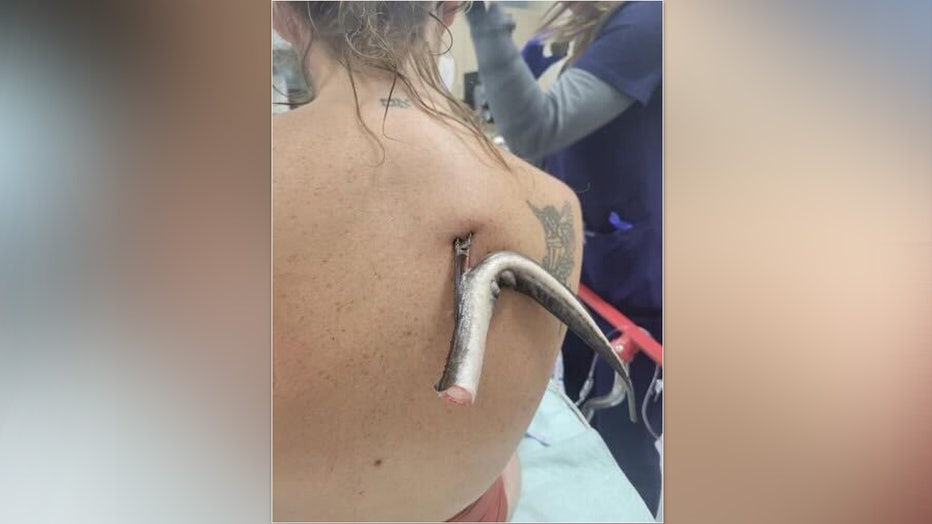 The stingray barb was 4 inches inside Kristie O'Brien's back. Image is courtesy of Kristie O'Brien. 
"As soon as I hit the water, I felt like I had been stung by something," O'Brien said.
When she leaned forward to get out of the water, her husband, back on the beach, was horrified by what he saw: a live stingray hanging by its tail from O'Brien's back, its venomous spine puncturing her skin to the center of her right shoulder. 
READ: World's largest recorded freshwater fish: 660-pound stingray caught in Cambodia
O'Brien estimates the barb was more than four inches deep inside her back, missing her lung by mere centimeters. 
She told FOX 13 News that with the stingray visibly agitated, she knew not to move, telling her husband not to pull the barb out. 
"I was trying to stay as calm as I could," O'Brien said, "But I was certain that I was going to die because, I mean, like everyone has like this picture of (television's Crocodile Hunter) Steve Irwin when he literally was punctured and his chest." 
Watch: Massive hammerhead shark chases stingrays as swimmers flee Alabama beach
Irwin was killed by a stingray in 2006 while filming in the Great Barrier Reef. 
Paramedics freed O'Brien in the water using shears to cut the stingray at the base of its tail. At the hospital, a trauma team carefully removed the spine. As of Friday, O'Brien was still being treated for poisoning from the stingray's venom.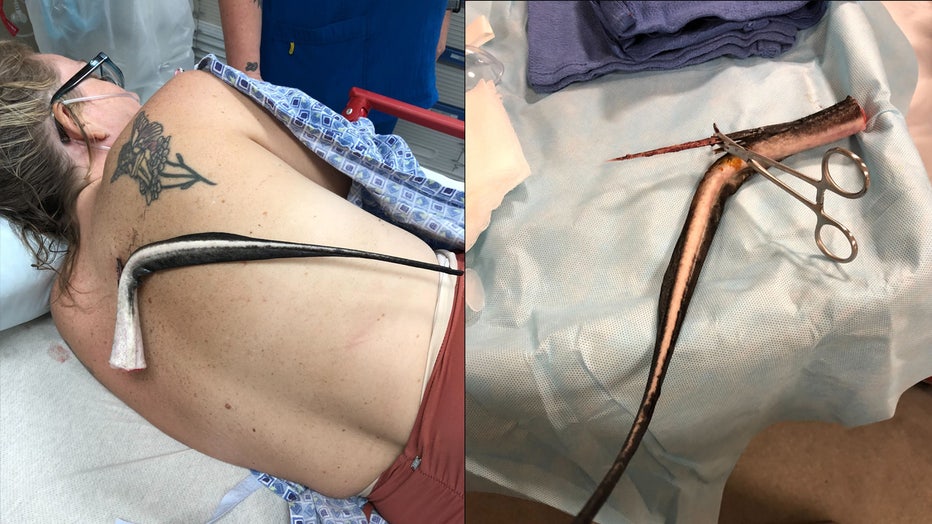 Side by side images of Kristie O'Brien's back with the stingray barb and the barb after it was removed. Image is courtesy of Kristie O'Brien. 
Based on the color and size, it is believed to have been the Southern stingray which, according to the Florida Fish and Wildlife Conservation Commission, is a non-aggressive species of little danger to humans except for their defensive barb near the base of its tail, used when a threat is perceived. Wildlife officials say beachgoers should practice the 'stingray shuffle' to reduce the chances of stepping on a stingray. 
READ: ZooTampa stingray deaths blamed on 'supersaturation;' tank will be redesigned and rebuilt
O'Brien said she expects to remain at St. Joseph's Hospital in Tampa for at least seven days in case of any bacterial infection from the water. 
"It's still incredibly sore there. It's like spurts of pain. And they say that's just because of the toxin that's actually in the barb of the stingray itself," she said.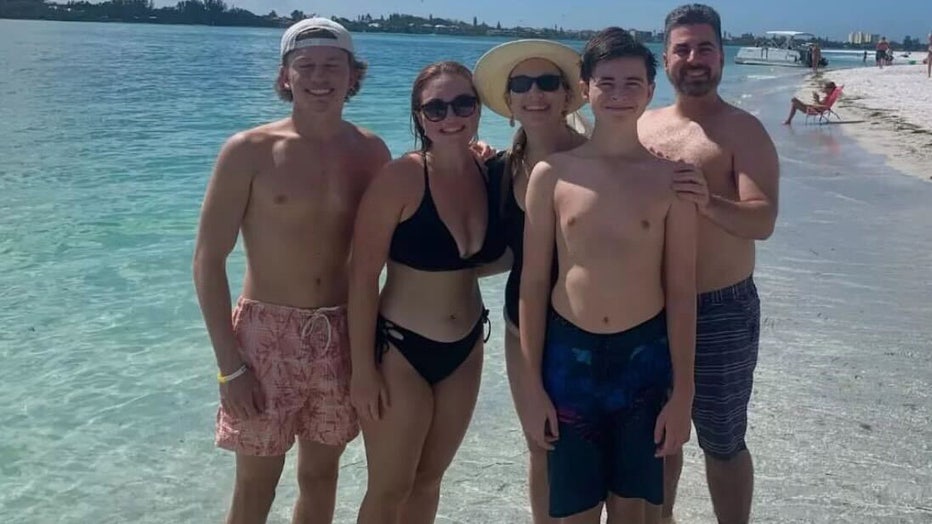 Kristie O'Brien and family at the beach. Image is courtesy of Kristie O'Brien. 
After speaking with her medical care team, the mom of three told FOX 13 most had never treated a puncture wound exactly like this, underscoring how unusual it is for someone to experience upper-body trauma from a stingray. 
As a longtime Florida resident, O'Brien said she is not afraid of getting back into the water. 
"I'll go back in the water again, probably (just) not in the bay. I probably won't be swimming in the bay," she said. "But I mean, stingrays are out there and we're in their environment."
A GoFundMe has been set up to help with O'Brien's medical bills.