Video: Man jumps into Busch Gardens alligator enclosure
TAMPA, Fla. - A man visiting Busch Gardens Tampa Bay stunned a group of onlookers as he jumped into the park's alligator enclosure on Wednesday. 
In a video taken by a park visitor, the man can be seen on the banks of the enclosure. He points at the crowd and says, "Another wild Karen, crikey!" 
Someone in the crowd shouted at him to get out as a woman in the video tells him that it's very dangerous. 
READ: Busch Gardens brings back free beer for the summer
According to Busch Gardens, the man, who violated park policy, jumped two fences to get inside the alligator habitat. The park added that there are signs and multiple barriers indicating that it was a restricted access area.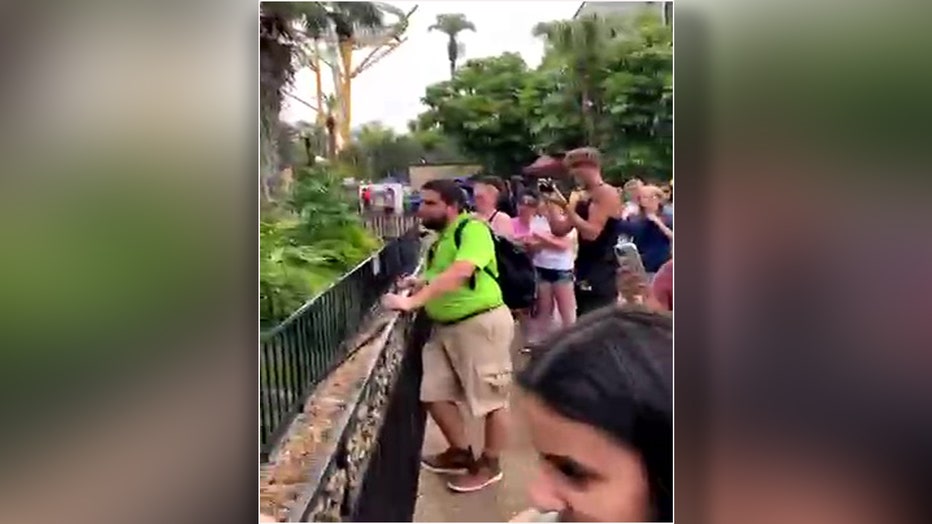 A crowd watches as a man yells from inside the Busch Gardens alligator enclosure. Credit Nick Reid. 
The theme park said its security and animal care teams responded immediately and no people or animals were injured during the incident.  
In a statement to FOX 13 Busch Gardens said, "We will not tolerate this blatant disregard of our safety rules and are working with law enforcement on this matter. The safety and well-being of our guests, ambassadors, and animals remains a top priority."