Weather forces another delay for critical space station shipment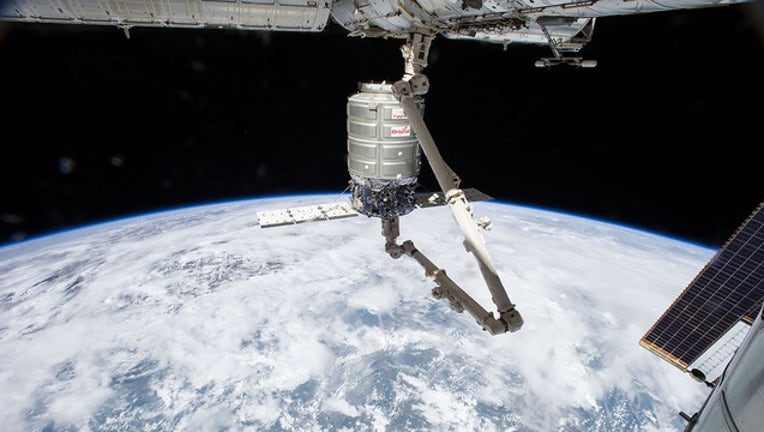 article
CAPE CANAVERAL (AP) - For the second day in a row, poor weather stalled a critical space station delivery for NASA on Friday.
An unmanned Atlas rocket stood ready to lift off at sunset with 7,400 pounds of supplies for the International Space Station, representing the first U.S. delivery in months. But gusty wind interfered; launch controllers waited nearly a half-hour for the wind to ease, but it did not. Thursday's launch attempt was rained out.
"It appears that maybe Mother Nature has played tricks on us once again," reported NASA launch commentator Mike Curie.
The next launch attempt is Saturday, although forecasters put the odds of acceptable conditions at a lowly 30 percent.
"We're ready to try again another day," said Vernon Thorp, a program manager for United Launch Alliance, the rocket maker.
The six space station astronauts have gone without U.S. shipments since April. Two private companies hired by NASA to replenish the orbiting lab are stuck on Earth with grounded rockets. Orbital ATK bought another company's rocket, the veteran Atlas V, for this supply mission.
Orbital's last grocery run ended in a fiery explosion seconds after liftoff in October 2014. SpaceX, the other supplier, suffered a launch failure in June.
Russia also lost a supply ship earlier this year. But it's since picked up the slack, along with Japan. A Russian resupply mission, in fact, is scheduled just before Christmas.
Much-needed food is inside Orbital's cargo carrier, named Cygnus after the swan constellation. NASA normally likes to have a six-month stash of food aboard the space station, but it's down a couple months because of the three failed flights. Space station program manager Kirk Shireman expects it will take another year to get the pantry full again -- provided there are no more accidents.
Also aboard the newest Cygnus capsule: clothes, toiletries, spacewalking gear, air-supply tanks and science experiments.
Orbital plans to launch another of United Launch Alliance's Atlas rockets in March, then return its own Antares rocket to flight from Virginia in May. SpaceX, meanwhile, aims to restart station deliveries in January with its Falcon rockets.