'We're coming for you:' Inside TPD's effort to identify looters
TAMPA, Fla. - As Tampa police detective Scott Savitt arrived at University Mall on May 30, it was a violent mix of rioters and looters.
"It was chaos," Savitt recalled. "There was people running all over the place. Champs [Sports] was on fire."
Now, there is a hunt to catch them all. Tampa police sergeant Justin Martens is pouring through hours of video, some of it coming from the public.
"At the end of the day, most people don't appreciate what happened to their city. And you can see that with a number of tips that have been coming in," said Martens.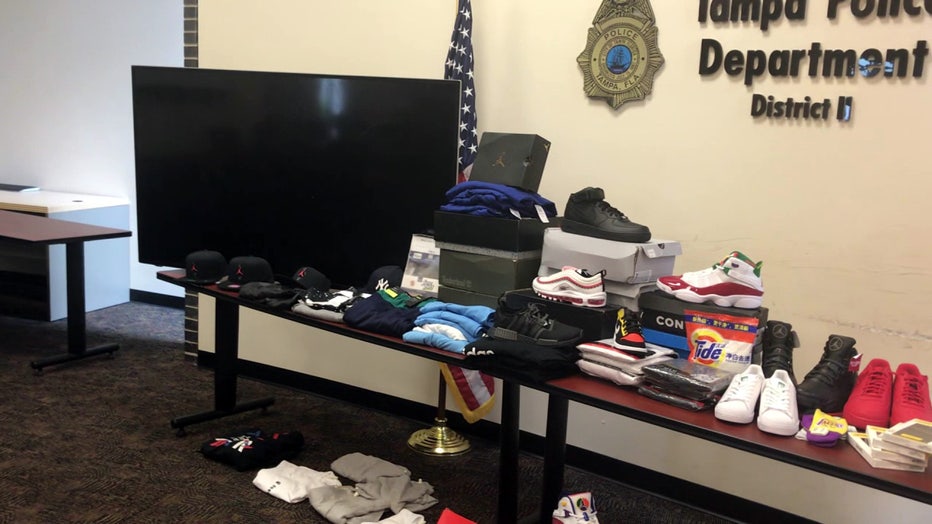 Looted items recovered by TPD.
And the results are showing. At District 2, recovered merchandise is spread out on two large tables – everything from clothes to hats to detergent, and even a flat-screen TV.  
Police say 40 were arrested the first night and 16 more since then. 
PREVIOUS: Nearly 50 arrested after stores looted, burned during night of violent protests in Tampa
Detective Savitt is combing through surveillance video too. Some of it, he says, is hard to watch.
"Two employees were on the inside of a business. They already shut down the gate right before everyone broke in. You could see the fear," he offered. "The hardest part is you feel helpless as an observer watching from here, wishing you could've been there. That's why we are working so hard right now."
PREVIOUS: Owner watched on TV as protesters looted Tampa jewelry store
Police are now checking Craigslist and pawn shops, looking for more stolen goods and those who stole it.
"I think they feel invincible at this point, that they're not gonna be caught," Martens added. "If you were there, if you were doing wrongdoing, we're coming for you."
Police say they are working on new warrants and 20 more arrests are coming soon. 
RELATED: Tampa police search for suspect seen on video setting fire to Champs Sports