Clearwater City council appoint former Mayor Brian Aungst Sr. to be interim mayor
CLEARWATER, Fla. - By a unanimous vote, the Clearwater city council appointed a familiar face to fill the role of mayor after Frank Hibbard made a jaw-dropping exit last week after announcing his resignation. 
During a special meeting Monday, leaders chose Brian Aungst Sr., a former mayor who will now hold the interim mayor position. Aungst served as mayor from 1999 to 2005 and left due to term limits.
Council members cited former mayor Aungst's experience as a major plus. Several public supporters called for someone who would fill the interim position, but not run for re-election in 2024. Aungst has pledged not to.
Vice Mayor Kathleen Beckman also had strong support from the crowd.  She expressed interest in the interim position but ultimately voted for the former mayor as it became clear that fellow council members were backing him.
"I'm really proud of the citizen engagement. I'm not disappointed. This is democracy in action," she offered. "I respect the process. I think it is important to have a unanimous vote of support for Brian Aungst Sr. I really look forward to working with him."
He is now expected to serve for about a year, until the next election. The former mayor will be sworn in by early April.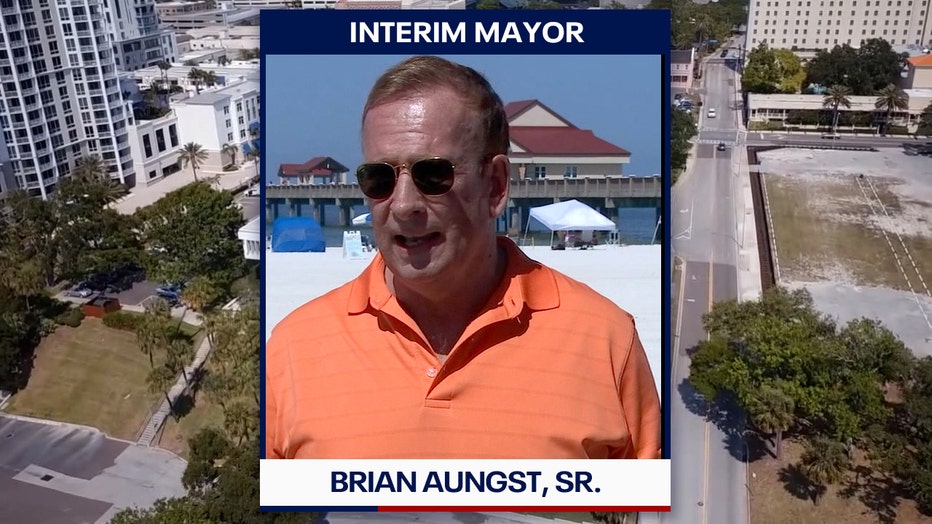 Hibbard's sudden resignation occurred during a routine budget workshop, where city leaders discussed several potential and pricey capital projects and improvements. At the meeting, Hibbard said he couldn't continue on as mayor of Clearwater because of a fundamental disagreement over the city's spending.
PREVIOUS: Former Clearwater Mayor Frank Hibbard talks abrupt resignation, his hopes for city's future
The nail on the coffin, he said, was a proposal to build a new $90 million City Hall, a project that's already $60 million in deficit. 
His resignation comes at a fraught time in Clearwater's government. The city has seen three city managers in two years. But Hibbard said his decision is about a difference in opinion in responsible spending, and not anything scandalous.
"The city is well-run," he told FOX 13 last week. "There's no corruption in the city. I think there's a fundamental disagreement about direction and being fiscally responsible. And what I finally came to the realization of is that maybe I'm not the right fit for this council."