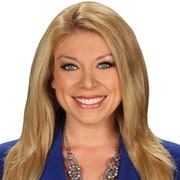 Haley Hinds is co-anchor of the FOX 13 evening newscasts at 5 & 11 p.m. She joined the FOX 13 News team in October 2014.
An eighth-grade field trip to KDKA-TV in her hometown of Pittsburgh helped Haley realize a career in TV news was definitely in her future. She went on to graduate from Waynesburg University in 2008 with a B.A. in Communication/Electronic Media.
Though she grew up in the rolling hills of southwestern Pennsylvania, the beautiful, adventure-filled state of Florida has easily become home. Before moving to Tampa, Haley spent five years reporting and anchoring at WINK News in Fort Myers. While at WINK, she traveled all over the state, covering stories like the Gulf of Mexico oil spill in Pensacola, witnessed the execution of Manuel Valle in Starke, and went skydiving (twice!) with the U.S. Army Golden Knights during their winter training in Homestead.
She was honored by the Florida Associated Press Broadcasters in 2013 with the Best Individual Achievement Award for excellence in covering various hard news, breaking news and feature stories.
Before flying south to Florida, Haley worked as a multimedia journalist at WTVH/WSTM in Syracuse, NY, often hauling a camera and tripod through the snowiest of conditions. There, she broke the story on the missing persons case of Aeryn Gillern, which has since gained international attention and also covered Onondaga County's first hate-crime murder trial.
In her free time, she enjoys competing in marathons, cooking, painting, singing, exploring local waterways on a stand-up paddleboard and sampling every slice of pizza she encounters. Throughout Spring Training season, you're likely to find her at LECOM Park with a hot dog in hand.
Haley believes everyone has an interesting story to tell and would love to hear yours. You can e-mail her at haley.hinds@fox.com, contact her through Facebook at FOX 13's Haley Hinds, or follow her on Twitter at @HaleyHinds.
 
The latest from Haley Hinds