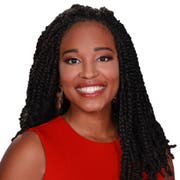 Mariah Harrison
Traffic reporter
Mariah Harrison is the traffic reporter on Good Day Tampa Bay. She joined the Good Day team in the studio after two years as a reporter with FOX 13. 
Mariah came to the Sunshine State from the Great Lakes State, Michigan. She graduated from Central Michigan University, where she studied broadcast and cinematic arts, French, and Spanish. 
While finishing her senior year, Mariah was promoted from intern to weekend morning producer at ABC 12 News in Flint.  Less than a year later she was offered a reporter position at WLNS TV6 in Lansing, Michigan's Capital City. Within a year and a half, Mariah worked her way from part time producer/reporter to weekend morning anchor. 
Mariah spent over three years in Lansing, giving a voice to the under-privileged and following political news affecting the entire state. 
She was awarded by the Associated Press and Michigan Association of Broadcasters for her series on an apartment complex left in legal limbo where low-income tenants were choosing to sleep in the parking lot rather than their bug-ridden units. Her series on the Lansing School District helped spark a Title IX investigation by the Department of Education after two young female students were suspended after reporting their sexual assaults to their principal. 
Mariah is deeply ingrained in her community, volunteering her time to speak with both high school and college students about career choices while emceeing numerous charitable events. She has served on the board of directors for the local Habitat for Humanity affiliate. 
Mariah loves camping, photography, reading fiction novels, and attending music festivals, and can always be found listening to the latest episodes of her favorite podcasts. 
You can email her at mariah.harrison@fox.com, or message her on Facebook and Twitter. 
The latest from Mariah Harrison
The view from SkyFOX shows some major backups for Pinellas County drivers trying to get to Tampa on the Howard Frankland Bridge/Interstate 275.
Attorney General Ashley Moody issued a warning to Floridians, saying there has been a significant rise in robotext scams.
While hundreds of flights in the U.S. have already been canceled Monday morning, the frustration level at Tampa International Airport is not as high compared to other parts of the country.
In it's 42nd year, Clearwater's annual race welcomed back participants to an in-person event after the COVID-19 pandemic forced organizers to go virtual in 2020.
Fitted with teeth and a skeleton in the passenger seat, this 'Great Ride' is a hit during Halloween.
A Tampa non-profit is bringing voter registration, vaccines, and a sense of community all to one place this weekend.
A unique little truck, owned by David from Lake Mary, found its way to the 30th Annual Slamfest Car and Truck Show.
St. Petersburg will be the backdrop of a new Hallmark movie, "South Beach Love."
This 2001 Western Lido had a cow print that caught the eye of the owners at Ol Macs Farm. So, they bought, and it's also used for newlyweds who hold wedding ceremonies on their property.