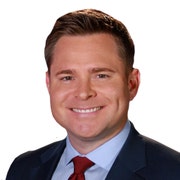 Scott Smith
Sports director
It was a dream job and I don't mind saying, it paid well – 10 bucks and a hot dog! At 15, my very first job was an announcer for the local little league, and somehow it's turned into a career I love – but sadly, minus the hot dogs.
I've had the privilege of covering many major sporting events like the Super Bowl, BCS Championship Game, PGA Championship, NCAA Tournament, and playoffs in the four major professional sports. It's always a special honor to interview icons in the game like Arnold Palmer, Tiger Woods, Pete Rose, and Smokin' Joe Frazier. However, my favorite part of the job is telling the stories of the inspiring, the unusual – and, of course, talking to diehard sports fans.
I've enjoyed many wonderful stops in my career before moving to Tampa, most recently at FOX in Washington, DC. I experienced that "dry heat" in Phoenix while working at KPHO. Meanwhile, my first taste of live television was in Tulsa, Oklahoma at KOTV. And it all started for me in my hometown of San Jose, California – the OTHER Bay Area – at Cal-Hi Sports.
I graduated from Harding University in Searcy, Arkansas where I played football for the Bisons, and yes, that's two Ss.
This is the part where I tell you about my spare time, but with two young kids, I don't have any. My wife Carina and I are blessed with a boy and a girl, Carson and Camryn.
The latest from Scott Smith