Alonso High School flag football coach earns NFL honors
TAMPA, Fla. - Cora Hernandez may be just 10 years old, but her arm has already helped her Pirate Bay Krewe flag football team make all the way to the NFL's Pro Bowl.
"It was cool, because there were teams there from all around the country, and you could play them and see their different styles," said Cora. 
Cora and her team, which represented the Tampa Bay Bucaneers in the NFL's Pro Bowl flag football tournament in Las Vegas last week, earned a fourth-place finish among the dozens of teams in attendance. 
READ: Lakewood senior signs with Ole Miss after just first football season
"I thought it was pretty impressive that we got fourth," said Cora. 
Along for the ride is the head coach of Cora's Pirate Bay team, but Cora calls him "Dad."
Matt Hernandez is the long-time head flag football coach at Alonso High School and has helped grow the sport not just in the Tampa Bay area, but now, nationally. 
It was at the Pro Bowl that Hernandez's success in the game earned him the NFL's National Flag Football Coach of the Year Award.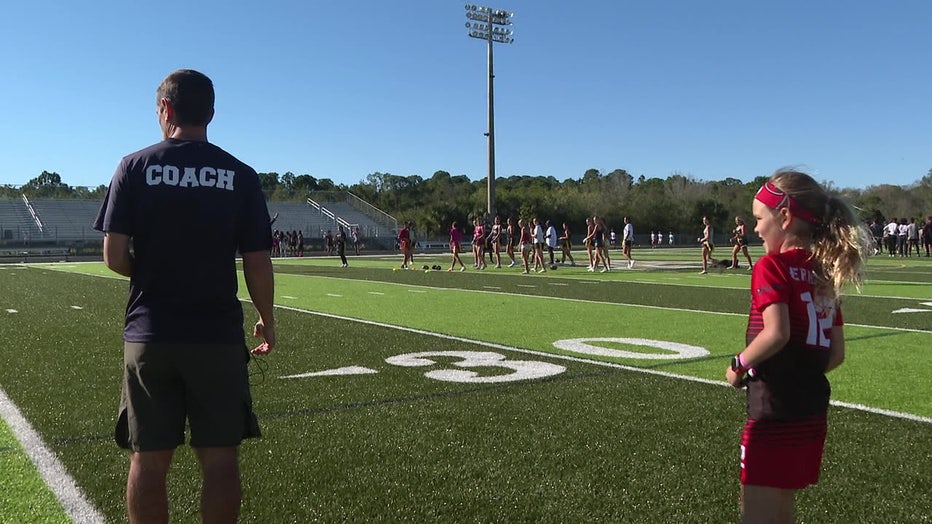 MORE: Carrollwood Day point guard given memorable senior night
"It was just a cool thing to be able to celebrate with my daughter and my family and get them really a part of what I'm doing with flag [football]," Hernandez said. 
From building a program from the ground up at Alonso, to coaching a team at the Pro Bowl 17 years later, Hernandez said this is proof of how far flag football has come. 
"The Pro-Bowl game itself now being a flag football game makes them feel even more associated with what was happening, because the NFL players were playing the same sport they were two days before," said Hernandez. 
As for Cora, she couldn't be prouder of her award-winning dad. 
"I was very happy," Cora said. "He's a good coach, and he's nice to all the players." 
Together, Cora and her dad are ensuring the game of flag football is in capable hands around the Tampa Bay area for years to come.