Quarterback competition over, Bucs officially make Mayfield QB
TAMPA, Fla. - The Bucs quarterback competition is over with the head coach Todd Bowles making what's been highly expected, official.
"Baker is the starting quarterback," Bowles said. "Kyle is No. 2."
"Coach Bowles came up to me this morning, shared Mayfield. "He'd told me he'd already talked to Kyle already and just informed me we're going to roll with and just continue to make smart decisions and go from there. Now I've just got to lead like I know how and the real thing is right around the corner, so it's an exciting time."
How did Kyle Trask take the news?
"Good, me and Kyle have a very good relationship," said Bowles. "We talk all the time, very honest with where we are with our relationship. I'm very excited with what he had done and where he's headed. He needs to be ready to play at anytime cause if Baker goes down he'll be the guy."
READ: Mayfield sits while Trask plays in Bucs' 13-6 preseason win over Jets
The competition between the two was competitive, but never contentious.  
"Baker is our guy right now, experience-wise and understanding the playbook just a little bit better," said Bowles. "We like both guys. We like where we're at."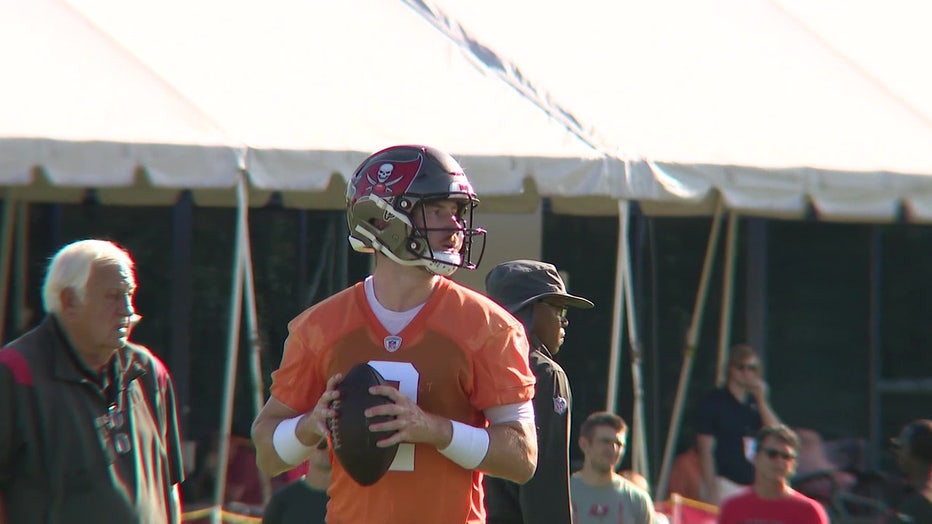 Kyle Trask took the news well according to Mayfield.
The two quarterbacks have a professional relationship and Baker plans on talking to Trask to keep it that way.
"We'll talk," said Mayfield. "I don't think there needs to be a rah-rah speech. Some things are just understood. We're pros, so we are going to move forward and handle business."
READ: Bucs finds a steal in running back Sean Tucker
The announcement didn't come as a surprise to Baker Mayfield. He believes he proved himself beginning with the Bucs offseason workouts and carrying it through the preseason. 
He believed he would be the Bucs starting quarterback ever since the day he signed with the Bucs as a free agent back in March.
"I expect to be the starter," Mayfield said. "I know how talented I am. I know what type of leader I am. Now it's time for the real thing. We're about to have the real games and everybody is excited here."
Mayfield is grateful for the opportunity and eager to start the season. 
"I'm one of 32 guys who can say they're a starting quarterback in the NFL. It's a special honor. I'm living out a dream but now is not the time to be satisfied. I think all of our guys are ready to push through this and see where we go."