Buccaneers' defense making strides during turnaround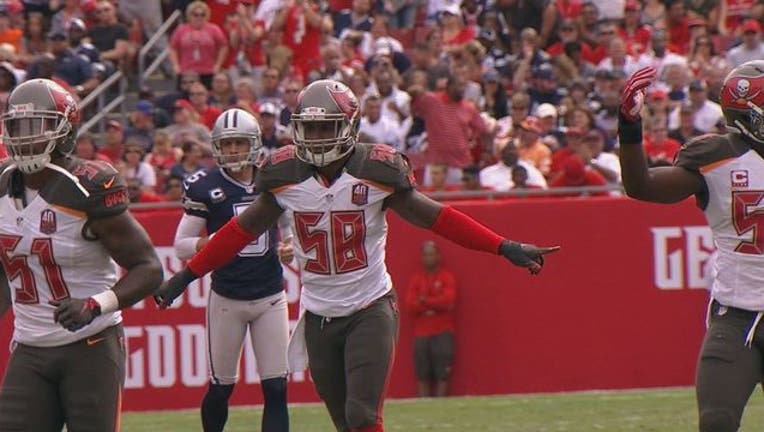 article
TAMPA, Fla. (AP) — Rookie Jameis Winston isn't the only reason the Tampa Bay Buccaneers have been able to turn around their season following a slow start.
The No. 1 overall draft pick's solid play has been essential to the Bucs (4-5) rebounding from losing three of their first four games. But so has a defense that is beginning to show signs of improvement in its second year in coach Lovie Smith's system.
Sunday's 10-6 victory over the Dallas Cowboys was the third in five games for Tampa Bay, which travels to Philadelphia this week with hopes of climbing to .500 or better this late in a season for the first time since November 2012.
Smith answered questions Monday about trying to win consecutive games for the first time in two years, reiterating it's not too late to accomplish goals established in training camp, including making the playoffs.
That's something the Bucs haven't done the past seven seasons.
"We talked about being relevant. We are. We're in the mix," Smith said. "Everything that we set in front of us is there. So that's the carrot. It would be great to win two in a row, great to get to .500. All of those things, though, are automatically built into what our goals are weekly."
Winston shrugged off two interceptions deep in Dallas territory — the young quarterback's first turnovers in over a month — to lead the second winning drive of his career against the Cowboys.
Tampa Bay's defense also finished strong, with safety Bradley McDougald intercepting Matt Cassel's throw to the end zone in the closing seconds to extend Dallas' longest losing streak since 1989 to seven games.
The Bucs limited the Cowboys, playing without injured quarterback Tony Romo, to a season-low 216 yards total offense, including just 42 yards rushing on 21 attempts.
Cassel was sacked three times, Darren McFadden was held to 32 yards rushing on 17 attempts, and Dez Bryant — the intended target on the pass McDougald picked off — finished with five receptions for 45 yards.
It was the best performance of the season for a defense that's undergone numerous lineup changes, especially in the secondary.
The Bucs have been ranked in the Top 10 in fewest yards allowed most of the year, but also have had difficulty stopping opponents in the red zone and have allowed 26.3 points per game. Smith said the unit, which started ex-Cowboy Sterling Moore and rookie free agent Jude Adjei-Barimah at cornerback the past two games, is getting better.
"We believe in what we do. We haven't been Pro Bowl-ready as quick as everyone would like, but it takes time. The moves we made at the cornerback position, those have helped us a lot. ... You keep doing things the right way, eventually you see some results," the coach said.
Tampa Bay blew a 24-point lead before losing at Washington last month. The following week, the Bucs let a 17-point advantage slip away before winning in overtime at Atlanta.
"We have a system that's proven, and when we play it the right way we're going to have success, period, versus anything that happens during the course of the game," said Smith, who led Chicago to three division titles, two NFC championship game appearances and one Super Bowl in nine seasons from 2004-2012.
"Each week we get a little bit better at it. Some of the things that's happened to us in the red zone, like giving up certain plays that we shouldn't, it takes time sometimes to get those things done," the coach added. "We're closer to playing better technique, sound football. About as close as we've been in a long time."
___
AP NFL website: www.pro32.ap.org and http://twitter.com/AP_NFL