Bucs beat Jaguars, end 11-game home losing streak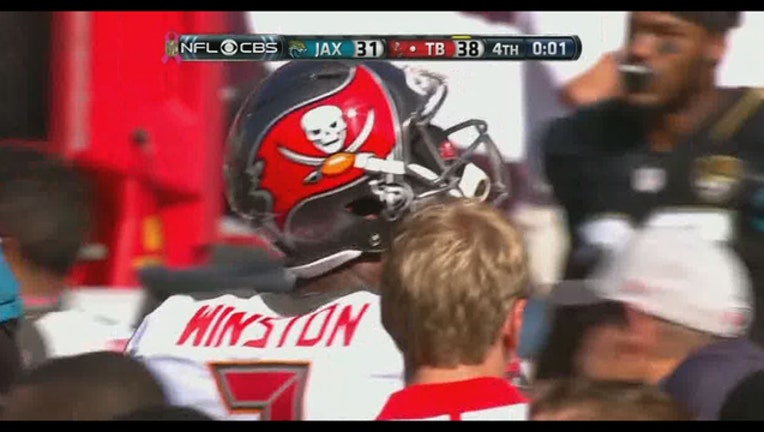 article
TAMPA (AP) - Tampa Bay ended a puzzling stretch of futility at home, while also prolonging Jacksonville's misery on the road.

Doug Martin ran for 123 yards and three touchdowns Sunday, helping rookie Jameis Winston rebound from the worst performance of his pro career and lead the Buccaneers to a 38-31 victory over the mistake-prone Jaguars.
 
The Bucs (2-3) snapped an 11-game home losing streak that dated to December 2013, the same month the Jaguars (1-4) began an equally agonizing road skid that now stands at 12.
  
Winston threw for 209 yards and one touchdown without an interception, redeeming himself after turning the ball over five times in a 14-point loss to Carolina the previous week.
  
Blake Bortles passed for 303 yards and four TDs, but was sacked six times and also threw an interception that set up a Bucs touchdown. The Jaguars gave up a 58-yard punt return that led to Martin's 10-yard TD reception, and rookie Corey Grant lost a third-quarter fumble that defensive end Jacquies Smith returned 3 yards for a score that put Tampa Bay ahead for good.
  
Martin, hindered by injuries the past two seasons, also scored on a pair of 1-yard runs as he continues to look more and more like the versatile runner who ranked third in the NFL in total yards from scrimmage as a rookie in 2012. He averaged over 5 yards per carry on 24 attempts and had three receptions for 35 yards.
  
Bortles threw TD passes of 13 and 15 yards to Allen Robinson, the latter trimming Tampa Bay's lead to 38-31 with 1:05 remaining. Bucs receiver Vincent Jackson recovered the ensuing onside kick, and Winston kneeled twice to run out the clock.
  
The Bucs won for the first time at home since beating Buffalo 27-6 in December, 2013.
  
Jacksonville rallied from 13 points down to take a 24-20 on Bortles' 4-yard TD pass to T.J. Yeldon, but couldn't finish the job for the second straight week.
  
The Jaguars lost 16-13 to Indianapolis in overtime after missing potential game-winning field goals in the fourth quarter and extra period.
  
Bortles also threw a 12-yard TD pass to Allen Hurns and finished 23 of 33 with one interception.
  
Winston completed 13 of 19 passes and made it through a home game for the first time without throwing an interception that was returned for a touchdown. He was sacked twice.
  
Offseason acquisition Julius Thomas made his debut for Jacksonville, playing for the first time since breaking his right hand in the Jaguars preseason opener. The tight end who a five-year, $46 million contract as a free agent after having 108 receptions and scoring 24 TDs the past two seasons in Denver had two catches for 20 yards.