Bucs kicking competition still close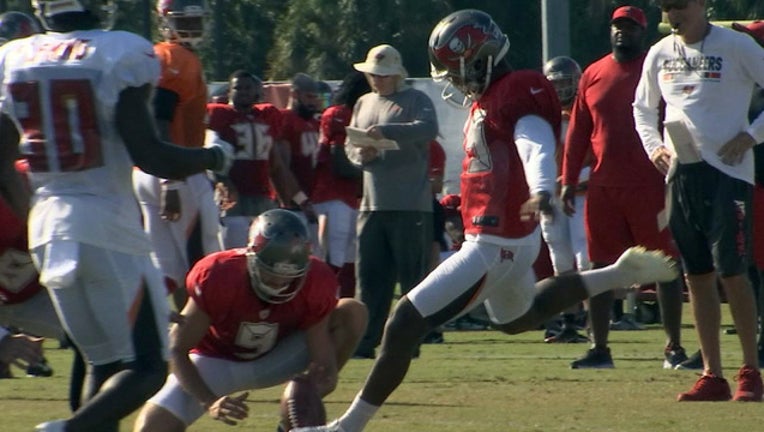 article
TAMPA (FOX 13) - You can't tell by Roberto Aguayo's face that he's in a fierce competition for his job. The Bucs' placekicker always has a smile even after a poor day at practice. But he's not alone on this day. Both he and Nick Folk connected on just two of six attempts.
"Not too good, not too good," said Bucs head coach Dirk Koetter. "It's one day on, one day off. Whatever they ate for breakfast today, [it's] off the menu, because that wasn't it."
"Just a little off today," Aguayo admitted. "I hit them well, just unlucky on some.  Hit the upright.  I just have to go and take it to the next day. Just keep on trying to work on it."
Aguayo has company in camp because of his rough rookie season. The second-round pick finished with the worst field goal percentage in the league, 26 percent less than the NFL's top kicker. The lesson Aguayo learned is that he has to be more mentally tough.
"With a position like ours, we use [mental toughness]," said Aguayo. "We only get a few couple opportunities so it's either we do good or we do bad. You have to have that mind right and I'm feeling good coming into this year."
With the preseason games starting Friday, will Coach Koetter weigh game performance heavier that practice performance for his kickers?
"That's a good question," said Koetter. "The problem is, in games we don't have any control -- we might go four weeks and not have any kicks come up. We'd like to make a decision sooner rather than later, but it's just hard right now. We've got to get better at that position. We've got to get better at every position but that's one of them."
The one bright spot on this day that Aguayo ended the practice with a long 52-yarder right down the middle.
"It was good to finish on a good note," Aguayo added.