Bucs lend indoor facility to Robinson Flag Football team
TAMPA, Fla. - Having won six straight state titles, the Robinson High School flag football team is no stranger to hosting state playoff games. Unfortunately for the Knights, their run of hosting playoff games has come to an end.
"As a coach, I want everything to stay the same. I don't like being away," said Robinson Head Coach Josh Saunders. 
The Knight's home playoff streak isn't ending, but their field is under construction while it gets a new synthetic turf field installed.
SPORTS: 'Living the dream': Bucs late picks in the NFL Draft bring players with ties to Tampa Bay area
"Not having practice on our home field and not doing what we're used to is just a little bit different," Saunders said.
While their field is out of commission, the Knights moved their practices to a nearby elementary school. But, where would Robinson High play its remaining playoff games? 
"I thought we were going to go play at a different school like Plant or Jefferson," said Robinson senior running back Julia Guillermo.
As it would turn out, the Knights wouldn't be playing in Tuesday's regional semifinal at any high school. Instead, they would take their game indoors to the Tampa Bay Buccaneers practice facility.
READ: Bucs linebacker Shaquil Barrett's 2-year-old daughter drowns in family swimming pool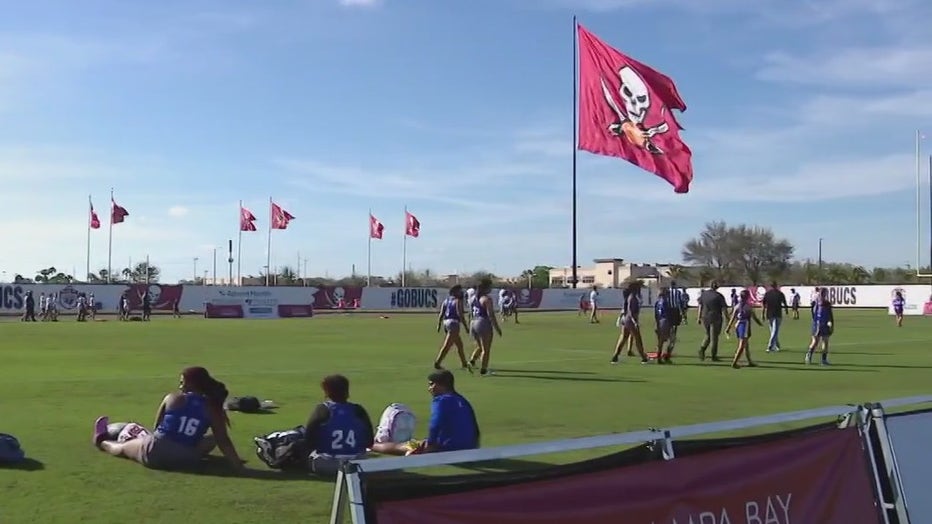 "It's a cool situation for anyone. To be completely honest, I've been here for 10 seasons, and when I walk into this practice facility, I'm in awe," said Buccaneers VP of Community Impact Tara Battiato.
Having hosted flag football showcases before, the Bucs are no strangers to elevating the game. So when Saunders reached out and asked the Bucs if they wouldn't mind allowing the Knights to borrow their facility, the Bucs didn't hesitate.
"We're always looking for experiences," said Saunders. "If we can create cool experiences for the girls, then that's going to be a win, automatically, before we ever look at the scoreboard."
The Knights can use the Bucs' indoor facility as their home field throughout their regional playoff rounds.
"I hope that these girls feel elevated, because they should, and they're welcome," said Battiato.
MORE: Bucs working on re-establishing winning attitude in the post Brady era
It may not be home, but thanks to the Bucs, the Knights are getting a home field advantage unlike any other.
"Us playing for playoffs when our field is rebuilding, the Bucs giving us that opportunity is such a big moment for us, and I just want to thank them," said Robinson junior linebacker Manasvi Vijayaraghavan.
While the field may be theirs to use, any championship rings still have to be earned. The Knights will host Gibbs High School Tuesday night in the regional semifinal. Should Robinson advance, they will host the regional title game back at the Bucs' facility on Monday.