Bucs players take holistic approach to social justice reform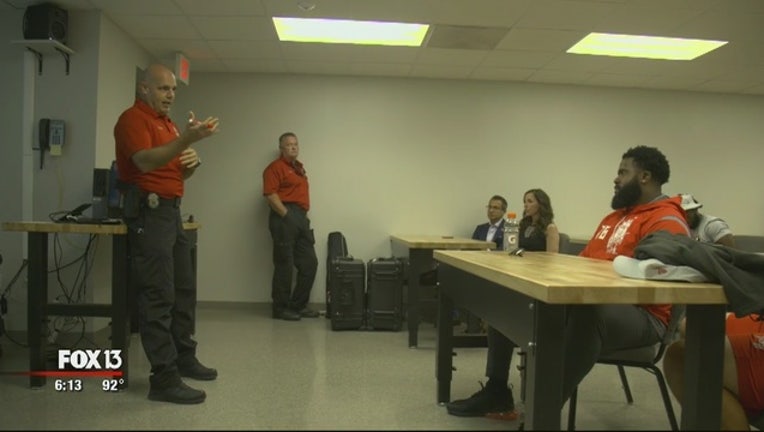 article
TAMPA (FOX 13) - The Tampa Bay Buccaneers have launched a foundation called Social Justice Initiative, aimed at bettering the Bay Area community. Tuesday, several players kicked off the program by visiting the Tampa Police Department training headquarters to see what it's like being an officer on the street. 
They used a virtual demo to step into the officers' shoes.
"Similar to Sundays, you have a decision to make. You have your training but you're not always going to make the right decision. They opened our eyes today," said Buccaneer Gerald McCoy.
The year-long initiative is player-driven. It'll focus on four specific areas: Police relations, criminal justice reform, racial equality, and youth empowerment.
"The players discussed the potential to create positive change. As a result, the foundation, Social Justice Initiative, was created," said team co-owner Darcie Glazer Kassewitz.
"We want to show people how it should be and be the change and let people build and stem off that," McCoy said.
It's taking all the talk, much of which centered around the national anthem protests, and putting it into action.
"That's the only way to create change," McCoy continued. "You have to be honest with each other and we were able to do that."
"You don't really do it for people, you do it for the goodness of your heart," said receiver DeSean Jackson.
Mayor Bob Buckhorn applauded the players' efforts.
"This I about being a man and recognizing your role, standing up and fulfilling that and making this community a better place and we stand there with you," he said.
Players have also pledged to match up to a million dollars in donations to local organizations focusing on social justice reform.