Bucs tight end Cade Otton ready to step up in sophomore season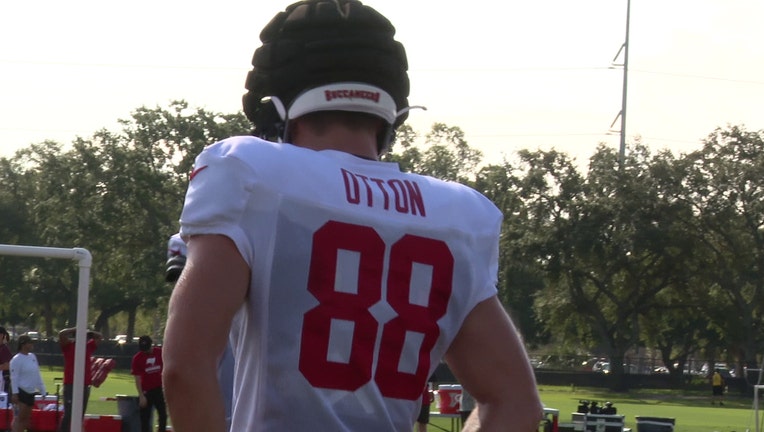 article
TAMPA, Fla. - Coming off his rookie season, Tampa Bay Buccaneers tight end Cade Otton knows there is room for improvement and will be the first to point that out.
"You grow, and you watch more film of what you should be doing, and you think 'What was I doing last year, you know?'" Otton joked. 
But what he has seen on film also gives him cause for hope. For example, even as a rookie, Otton had more receiving yards and catches than all other Tampa Bay tight ends combined. 
READ: Bucs' Shaq Barrett opens up about 2-year-old daughter's passing, expecting baby girl
That has helped Otton springboard into his second training camp. 
"I feel confident. I'm having fun," said Otton. 
It's that confidence that has been on full display through the first seven days of training camp, earning the praise of Bucs Head Coach Todd Bowles. 
"He's a football player and a heady football player," said Bowles. "He has been solid all the way around. He has been having a good camp."
SPORTS: One year later, Ryan Jensen reflects on his journey back to the NFL
This season, however, it won't just be enough for Otton to be "solid." 
The Bucs will need him to help lead a tight end room that lost a combined 21 years of NFL experience with the absence of Cameron Brate and Kyle Rudolph. 
"I think just being able to learn from them for a year and see how they operate, how they played, treated football every day really helped me prepare for this moment," Otton said. 
Now, heading into his second year, Otton knows that to improve, he must be the best version of himself and focus on the little things. 
"There's always a natural progression, but I'm always trying to lock in on those details," he said. 
MORE: Quarterback battle persists as Bucs training camp continues
Those details also include learning a new offense with first-year offensive coordinator Dave Canales in charge. 
"It keeps it fresh," said Otton. "It's easy to challenge yourself when you're learning a new offense."
This, however, is one challenge that he isn't just ready, but excited, to accept. 
"I'm just really excited to see what we become this year as an offense," said Otton. 
The Bucs, meanwhile, continue training camp Friday morning with an 8:30 a.m. practice.