Francois named No. 19 Florida State's starting QB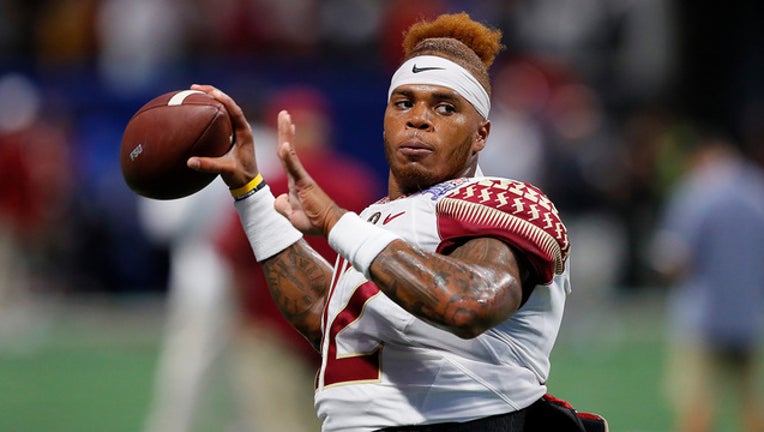 article
TALLAHASSEE, Fla. (AP) - Deondre Francois is back in the driver's seat. The junior quarterback beat out James Blackman and Bailey Hockman for the opportunity to start for No. 19 Florida State in the season opener against No. 20 Virginia Tech on Sept. 3.
Coach Willie Taggart made the announcement on Monday prior to practice.
"In every scrimmage we've had, he's been really impressive," Taggart said. "And the same thing in practice. And they all have. It's been a good competition.
"But I think when you look at the overall body of work and when they're in there running the offense, we feel like Deondre gives us the best shot."
Francois threw for 3,350 yards, 20 touchdowns and seven interceptions in 2016 when he was named the Atlantic Coast Conference's rookie of the year. He suffered a season-ending knee injury last year in the Seminoles' opener against Alabama and had surgery three days later to repair the patellar tendon in his left knee.
Francois was limited during spring practices but was cleared for full participation when the Seminoles began preseason practices. Taggart said he informed all three quarterbacks about the decision on Sunday.
"When he's in there running the offense, it's a lot more efficient, a lot less mistakes," Taggart said. "That's important when playing the position."
Blackman had stepped in to start after Francois' surgery and the competition has been viewed as one of the most important ones of the preseason as well as a major decision for Taggart, who prepares for his first season as Florida State's coach.
Francois was investigated for a pair of off-field incidents and took part in a diversion program for a misdemeanor marijuana charge. He moved back on campus and has strengthened his relationship with teammates.
Taggart said "he's been doing everything we've asked him to do and more."
As a true freshman, Blackman threw for 2,230 yards, 19 touchdowns and 11 interceptions. Hockman took a redshirt in 2017, his first year on campus, and often ran the Seminoles' scout team.
Taggart thinks Blackman and Hockman will be ready if called upon.
"I think with a guy like James, and just going through what he went through last year, he understands he's got to be ready and not sit around or pout," Taggart said. "Just like that, he could be in the game. And the same thing with Bailey. He's the same way: he's going to work and compete and make sure he's ready to go as well."
Francois wasn't made available to the media on Monday but has spoken a few times during the preseason. He said the competition has made each quarterback better.
"I'm just doing my best every day to be the best quarterback I can be for this team," Francois said recently. "We all compete against each other every day, and we all love each other. We're fighting for a starting position, but any level of football you have to fight for a starting position."
Virginia Tech defensive coordinator Bud Foster said Sunday that he was focusing his preparations on Taggart's system instead of figuring out who would be the quarterback.
"I think they're going to run the offense that we've seen at Oregon or South Florida. So, we are not really thinking about who will be playing quarterback," Foster said. "They're still Florida State and they're still extremely dynamic."
___
More AP college football: https://apnews.com/tag/Collegefootball and https://twitter.com/AP_Top25