Hedman taps in late goal, Tampa Bay Lightning edges Blackhawks 3-2 to end 3-game slide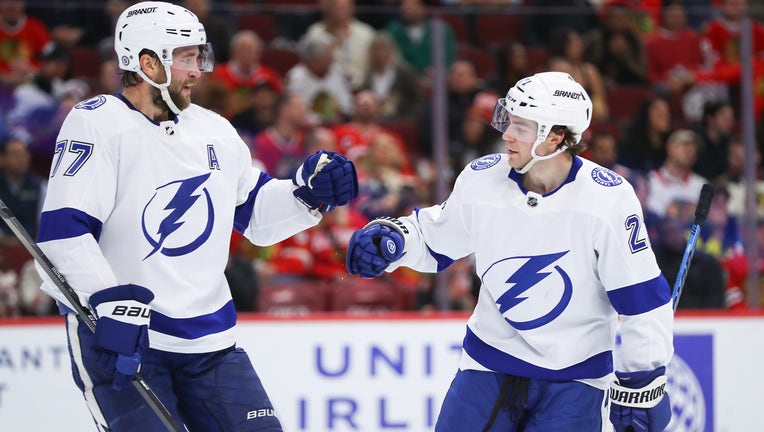 article
CHICAGO, Ill. - Victor Hedman snapped a tie 11:53 into the third period, and the Tampa Bay Lightning beat the Chicago Blackhawks 4-2 on Thursday night.
Brayden Point had a power-play goal and two assists for Tampa Bay, which had dropped three straight. Mikhail Sergachev scored in the second and assisted on Brandon Hagel's empty-netter.
Hedman, who also had an assist, slipped to the left edge of the crease and tapped in the puck for the game-winner after Erik Cernak's blue-line drive bounced off the back boards. The Lightning dominated the action for several minutes before Hedman's fourth goal of the season.
After Chicago's Corey Perry tied it at 2 early in the third, the Lightning got rolling.
"After giving up that second goal, I thought we took over the game once again after that," Hedman said. "We got some zone time and we kept playing so it was big for us."
Lightning coach Jon Cooper praised his team's response after Perry connected. The 38-year-old forward completed a nifty passing sequence for his fourth goal after a Tampa Bay turnover at its own blue line.
"The boys dug in," Cooper said. "What happened in the past is basically we shied away from the moment and tonight we didn't. A big response from us in the third to close it out."
Lukas Reichel also scored for Chicago in its second straight loss. Connor Bedard, who had four goals and two assists in his previous two games, had just one shot on goal.
"Today, we didn't give him chances, Hedman said. "He had to earn them. But you can still see when he gets the puck, you don't know what he's going to do."
Bedard and his line were penned in the Chicago zone when Hedman scored.
"I thought that in the third especially, they had the puck way too much in our zone and we couldn't get it back," Chicago coach Luke Richardson said.
The Lightning were shut out by Carolina and St. Louis in their previous two losses. Point's seventh goal, on a deflection at 4:40 of the second, tied it at 1 and ended Tampa Bay's scoring drought at 146 minutes and 50 seconds.
Jonas Johansson made 13 saves for the Lightning. Petr Mrazek blocked 25 shots for the Blackhawks.
Reichel opened the scoring with a power-play goal with 7:01 left in the first. Chicago's first-round draft pick in 2020, Reichel got his first goal in 14 games this season by redirecting Philipp Kurashev's shot from the right point.
The Lightning took a 2-1 lead on goals by Point and Sergachev just over 4 minutes apart in the second.
Point tied it at 1. Parked in the crease, he tipped Hedman's drive from the top of the slot.
The Lightning's previous goal was by Steven Stamkos with 2:10 left in Chicago's 5-3 win at Tampa Bay a week ago.
Point's goal withstood a video challenge by the Blackhawks. He appeared to be offside when he entered the Chicago zone, but was ruled in control of the puck.