Is the University of Central Florida football team 'National Champions?'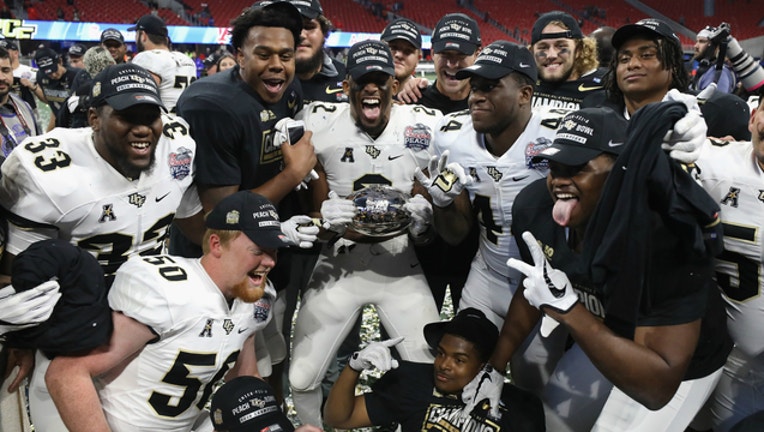 TALLAHASSEE, Fla. (NSF) - Tallahassee public-relations guru Kevin Cate has pushed Florida lawmakers the past couple years to acknowledge the existence of his alma mater, Alabama's Auburn University, through a specialty license plate.
Now he is trying to round up legislators to proclaim the University of Central Florida as college football national champions after the Knights beat Auburn on Monday to complete an undefeated season.
"I think a resolution by the Florida Legislature declaring @UCF Football national champions is in order this #flsession." Cate tweeted after UCF's 34-27 win in the Peach Bowl in Atlanta.
Rep. Amber Mariano, a Hudson Republican and 2017 UCF grad, replied "Let's do it!!"
Rep. Bob Cortes, R-Altamonte Springs, along with Rep. Kionne McGhee, D-Miami, and Senate Minority Leader Oscar Braynon, D-Miami Gardens, have also offered to back the proposal --- although, McGhee added a caveat to his support.
"If Alabama wins the Championship, we will begin the debate that @UCF_Football is our National Champ!" McGhee tweeted, referring to next week's championship game between SEC rivals Alabama and Georgia.
Undefeated and unacknowledged is apparently something Auburn fans know all too well, having twice finished with perfect records --- in 1993 and in 2004 --- without landing a No. 1 national ranking.
"I'm normally an apologist for the #SEC, but my last football season at @AuburnU, we were undefeated and denied a shot at the national title," Cate tweeted. "Not fun."
But this love for the Knights could also be a ploy, as Cate hasn't given up on the Auburn specialty license-plate dream he shares with Rep. James Grant, a Tampa Republican and fellow Auburn alum.
"Late filed amendment: require @CFBPlayoff to include 10 teams, plus we still get our @AuburnU license plate," Cate tweeted.
Kevin Cate isn't the only one seeking the 'National Champion' title for the University of Central Florida football team. After a columnist wrote about the UCF team as 'national champions,' the team started to take a liking to the title, even changing their Twitter name to '2017 National Champions.'
UCF Football went on to make several tweets referencing the title.
-------------------------------------------------------------------
Story Courtesy: The News Service of Florida