Kucherov, Bishop lead Lightning to 6-1 win over Islanders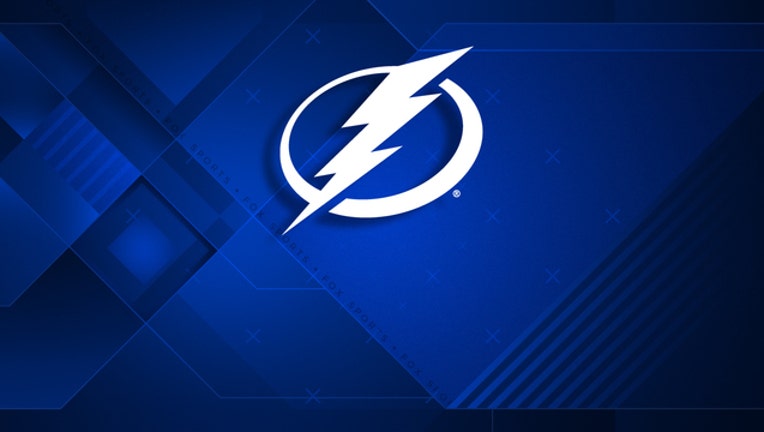 NEW YORK (AP) — For the Tampa Bay Lightning, it was the feel-good game they wanted to prove they are one of the elite teams in the Eastern Conference. The New York Islanders just want to forget about this one.
Nikita Kucherov had two goals and two assists, Ben Bishop made 26 saves, and the Lightning beat the New York Islanders 6-1 Tuesday night.
Steven Stamkos, Brian Boyle, J.T. Brown, and Valtteri Filppula also scored, and Victor Hedman and Slater Koekkoek each had two assists to help the Lightning snap a three-game skid and finish a 3-3-0 road trip.
"(Kucherov) is a guy that you want him to have confidence, you want him to get touches early," Lightning captain Stamkos said. "Especially coming off that little injury he had. You have a game where you get some points, you start feeling good about your game, it's only going to help. He is a huge part of our offense, we are glad that he had a good night tonight."
Dennis Seidenberg scored for the Islanders, giving them goals by defensemen in six straight games. Thomas Greiss started in goal and gave up three goals on 11 shots in the first 13:34. He was replaced by Jaroslav Halak, who allowed three goals in the second period and finished with 22 saves.
"Ain't nothing positive, it is what it is," Islanders captain John Tavares said. "Got to move on, and get ready for Thursday (against Philadelphia). ... You always try to learn from it. It's a long season and a lot of games still coming up. We just got to put it behind us and get better tomorrow."
It was the teams' first meeting since the Lightning beat the Islanders in five games in the Eastern Conference semifinals last spring.
Tampa Bay, coming off a 6-1 loss at the New York Rangers on Sunday, got off to a strong start.
Kucherov took a beautiful cross-ice pass from Stamkos on the power play and beat Greiss on the short side to at 3:21.
Kucherov doubled the lead with 7:42 left in the first on a wrist shot from the left faceoff dot for another power-play score and his third of the season. Stamkos' tip-in 1:16 later made it 3-0 and chased Greiss.
"I've been with this group a little while now and when they've been pushed up against a wall, they usually have pushback," Lightning coach Jon Cooper said. "I thought it was just a complete effort."
Stamkos appeared to have tallied another power-play goal in the first but Islanders coach Jack Capuano challenged and the goal was disallowed for offside after a review.
The Lightning outshot the Islanders 14-4 in the first.
Boyle lifted a backhand past Halak at 6:17 of the second, Brown converted a short-handed breakaway for his first of the season at 9:30, and Filppula picked up his 149th career goal — and 49th with Tampa Bay — with 8:41 remaining in the period to make it 6-0.
Seidenberg got the Islanders on the board with a hard slap shot from inside the blue line beyond the right faceoff circle with 30 seconds left in the second.
Less than two minutes into the game, Islanders defenseman Calvin de Haan laid a big hit on the Lightning's Jonathan Drouin. Ryan Callahan — playing his second game since offseason surgery — felt the need to protect his teammate and dropped the gloves with de Haan. Drouin left the game and did not return.
"You can't get into penalty trouble against good teams," Islanders coach Jack Capuano said. "Right from the start, we took the penalty and it just snowballed. . Special teams was a huge factor in tonight's game for me."
Boyle and Travis Hamonic also fought later in the contest.
Hamonic said his team did little to quell the Lightning attack and was eager to get to the Islanders' next game, a divisional matchup with the Flyers.
"They just kept coming and we certainly didn't answer," he said. "It's certainly a frustrating night for everybody collectively. We have a quick turnaround. It's a long year. We'll right back on it."
NOTES: A week ago, the Islanders had the league's best penalty-kill at 95.5 percent (21 for 22) over their first six games. Since then, New York has allowed six goals on 16 power plays over four games. ... Casey Cizikas skated in his 300th career NHL game. ... Islanders rookie Anthony Beauvillier played in his ninth career NHL game. Once the 19-year-old plays his 10th NHL game, it will accelerate his entry-level contract by one season. New York's other 19-year-old rookie, Mathew Barzal, has only played two games. ... Tampa Bay scratched C Cedric Paquette and D Nikita Nesterov. . Lightning F Slater Koekkoek made his season debut after being recalled from Syracuse of the American Hockey League on Monday.
UP NEXT
Lightning: Host Boston on Thursday night.
Islanders: Host Philadelphia on Thursday night.