Lightning beat Flyers 5-2 to snap 5-game losing streak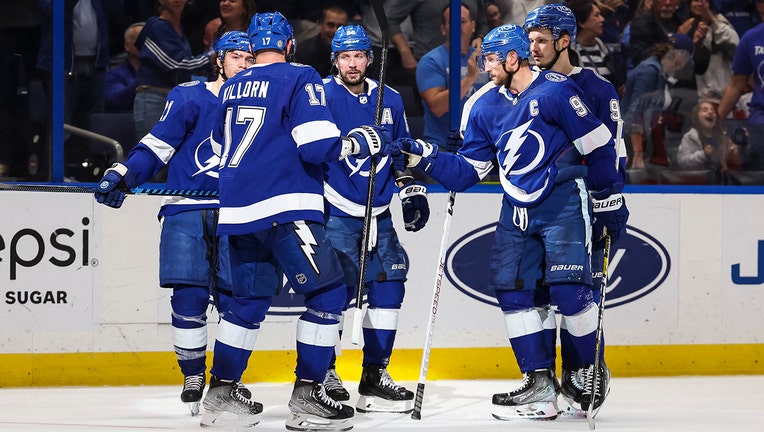 article
TAMPA, Fla. - Alex Killorn and Nikita Kucherov each had two goals and an assist and the Tampa Bay Lightning beat the Philadelphia Flyers 5-2 on Tuesday night to snap a five-game losing streak.
Ross Colton also scored, Mikhail Sergachev had two assists and Alexei Vasilevskiy made 33 saves for the Lightning. They had been 0-4-1 since a 3-0 victory in Detroit on Feb. 25.
Morgan Frost and Brendan Lemieux scored for Philadelphia, and Carter Hart made 34 saves. The Flyers have lost five of six.
After each team scored once in the first period, Tampa Bay took command with three goals in the second.
Kucherov gave the Lightning a 2-1 lead 34 seconds in when he set up at the top of the right circle and one-timed Sergachev's pass behind Hart.
Colton outmuscled three Flyers in front of Hart and slid Tanner Jeannot's pass into the net at 8:46 for a 3-1 advantage, and Killorn put the Lightning up by three at 10:49 with a short wrist shot after Hart misplayed the puck behind the net.
Lemieux cut the margin to 4-2 at 12:40 when he deflected Cam York's wrist shot from the top of the left circle past Vasilevskiy's catching glove. But Kucherov scored Tampa Bay's third power-play goal of the game with 2:22 remaining in the third period.
The Flyers opened the scoring at 5:52 of the first period when Frost finished off a 2-on-1 break by beating Vasilevskiy during a delayed penalty. But Killorn's power-play tap-in of Kucherov's pass at 7:38 got the Lightning even.
The Lightning played without their best defenseman, Victor Hedman, who left midway through a 6-0 road loss to Carolina on Sunday after crashing into the boards and injuring his back.
Tampa Bay improved to 12-1-0 in its last 13 games against the Flyers.
UP NEXT
Flyers: At Carolina on Thursday night.
Lightning: Host Vegas on Thursday night.