Lightning draft pick playing for National Championship in the Frozen 4
TAMPA, Fla. - The University of Minnesota's Conner Kurth's career keeps getting better. Less than a year after being drafted by the Tampa Bay Lightning, he finds himself skating for a National College Championship on the very ice he hopes to call home in the future.
"It's really cool to see it," said Kurth. "Getting out there was awesome. First time one ice, so just knowing that could be a possibility one day is really cool and an exciting experience."
This is Kurth's second trip to Tampa. He got to take part in the Lightning's development camp last July and for a kid that grew up in snowy Minnesota, the Tampa Bay area is paradise.
READ: 'Coming home': High school quarterback's journey brings him to Wiregrass Ranch for senior year
"We got about three feet a couple days ago," laughed Kurth. "Got out of the snow which is awesome."
Informed that it's going to be 90 degrees this week brought a big smile to Kurth's face.
"It's going to be a huge change from 20 degrees in Minnesota."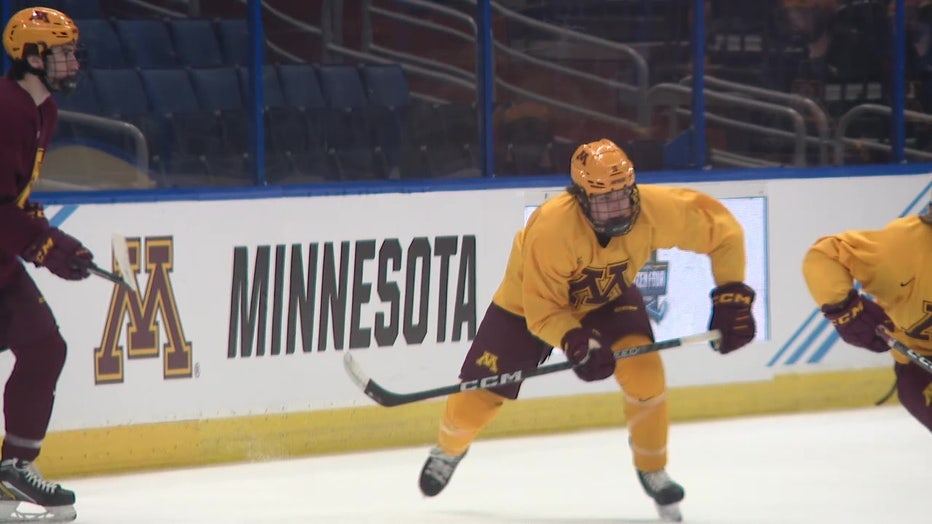 The Lightning have founds some diamonds with their late round draft picks, including another sixth round pick Nick Perbix, who made this year's team.
MORE: Rays goes with youth over experience for left handed power
"Yeah, Nick Perbix was actually my teammate this Summer during Development Camp," said Kurth. "We both came from the same city in Minnesota. It was pretty cool to see, especially him making the big club this year. Playing the full time now is really surreal."
Kurth was named the 2022 Dave Tyler Junior Player of the Year, joining elite company as the most outstanding American-born player in junior hockey. Winners include the No. 1 overall NHL Draft pick in 2019, New Jersey Devil Jack Hughes and former Lightning player Blake Coleman.
"When I got to see that list for the first time I was, like this is a huge honor," said Kurth. "It was really, really special."
Kurth on winning the award and having his name alongside other notables.
The last 12-months have been a whirlwind of excitement for this Gopher and Lightning prospect. He's hoping when he returns for the Lightning's Development Camp this summer he'll be doing it as a National Champion.