South Carolina tops Michigan 26-19 in Outback Bowl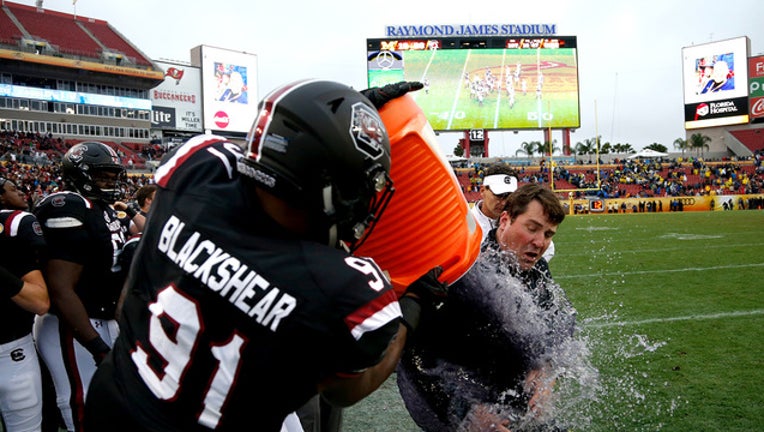 article
TAMPA, Fla. (AP) - Jake Bentley threw for 239 yards and two touchdowns Monday to help South Carolina overcome a 16-point second-half deficit to beat Michigan 26-19 in the Outback Bowl.
The sophomore tossed scoring passes of 21 yards to Bryan Edwards and 53 yards to Shi Smith, the latter giving the Gamecocks (9-4) a 23-19 lead early in the fourth quarter.
Michigan (8-5) finished with its first three-game losing streak under coach Jim Harbaugh. The Wolverines turned the ball over five times, including an end zone interception that denied them an opportunity to regain the lead with just under eight minutes to go.
The loss also cost the Big Ten a clean sweep of bowl games involving conference members. The league entered 7-0, looking to go unbeaten in postseason play for the first time since 1998 when it went 5-0.
Bentley was 19 of 32 passing with one interception. Rico Dowdle, playing for first time since breaking his leg against Tennessee on Oct. 14, began South Carolina's comeback from a 19-3 deficit with a 17-yard TD run.
Brandon Peters had a tough day for Michigan, completing 20 of 44 passes for 186 yards and two interceptions. His second pick, with 1:05 remaining, sealed South Carolina's second Outback Bowl victory over the Wolverines in five years.
Quinn Nordin accounted for most of Michigan's scoring, kicking field goals of 35, 26, 45 and 48 yards. Fullback Ben Mason scored on a 1-yard run in helping Michigan build its 16-point lead.
Peters, who returned to the lineup after missing the regular-season finale against Ohio State with a concussion, was hoping to make it more difficult for Harbaugh to replace him next season - even if Shea Patterson is one of coach's options.
Patterson plans to transfer to Michigan from Mississippi, a program hit with sanctions, and to petition the NCAA to allow him to be immediately eligible.
THE TAKEAWAY
Michigan: The Wolverines started 4-0, but their inexperience showed in going 5-4 in Big Ten play with losses to Michigan State, Penn State, Wisconsin and Ohio State. Losing to South Carolina extended the team's season-ending skid to three games.
South Carolina: South Carolina feels good about its progress in two seasons under coach Will Muschamp, whose 15 victories match the most by any coach in his first two years with the Gamecocks. Joe Morrison (1983-84) and Steve Spurrier (2005-06) also won 15.
%INLINE%
UP NEXT
Michigan: Wolverines could open the 2018 season against Notre Dame with a new quarterback. But there likely will not be nearly as many changes as this season when Michigan returned the fewest starters (six) of any FBS program in the country. In addition to Peters and Patterson, the competition for the QB job will include Dylan McCaffrey, son of former NFL player Ed McCaffrey and brother of Carolina Panthers running back Christian McCaffrey.
South Carolina: Muschamp fired offensive coordinator Kurt Roper last month and must decide on a replacement. Co-offensive coordinator/wide receivers coach Bryan McClendon called plays Monday, and Muschamp said before the game he was impressed with the job McClendon did during preparation for Michigan.
___
More AP college football: www.collegefootball.ap.org and https://twitter.com/AP_Top25