University of Tampa's women's lacrosse team ranked 4th in the nation with eyes on their first championship
TAMPA, Fla. - At 5 foot 2 inches, Alex Walling plays bigger than her size for The University of Tampa Spartans. She's a virtual wall in net on the women's lacrosse team, and her play has earned her the Division II National Player of the Week – twice.
"My coaches are always like 'you play the best when you don't think about it,'" said Walling. "So when I don't think about it, there's the ball."
"She's done a really good job of making big saves in a timely manner," said UT's women's lacrosse head coach Kelly Gallagher. "As a coach that's all I could ask for from goalie."
READ: UT Spartans baseball team spends week helping those living in poverty in the Dominican Republic
Playing goalie in Lacrosse takes a lot of tenacity and toughness. Shots come fast, reaching speeds of more than 80 miles per hour. The only equipment for goalies is a helmet and chest protector. The rest of the body is completely exposed.
"You definitely can't be scared," said Walling. "You can't think about if it hurts or not. Usually in games, if I get hit with the ball, I think with adrenaline I don't feel it."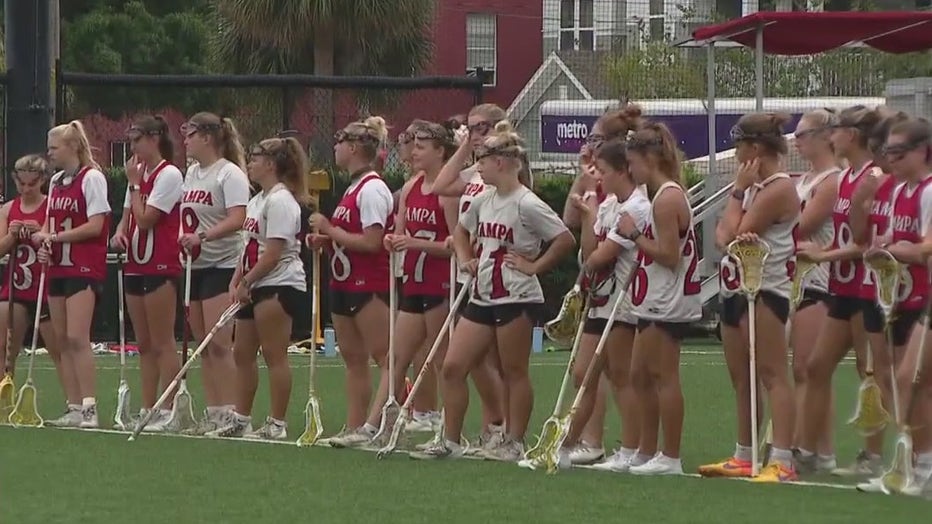 This is Walling's senior season, and she has one more year of eligibility to play. Right now, this women's team is playing at the top of their game, and they've been ranked in the Top 4 twice this season.
The Spartans men's team won the school's first Lacrosse National Championship in 2022. Walling and six teammates made the trip to Connecticut to cheer on the team, and in the middle of the game, she decided to text her head coach with an inspired message.
MORE: USF Track and Field reaches new heights in AAC Championship
"Alex and a handful of our juniors took a picture together and sent it to me and said we're going to be at our own next year, said Gallagher. "So I hope that's a little positive foreshadowing."
"Last year was good," said Walling. "We played the No. 1 team [first round], and we only lost by two goals. So that was like, we were hungry. We can hang. We can be here."
The women's program has made the NCAA tournament twice in their history. Twice in the last four seasons. They have yet to win in the postseason, but they believe this year is their time.