USF Track and Field reaches new heights in AAC Championship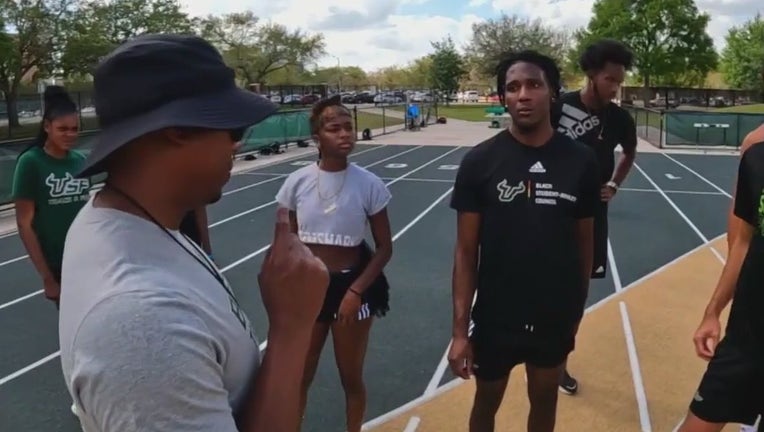 article
TAMPA, Fla. - The University of South Florida Bulls Track and Field team is on the right track with Erik Jenkins leading the way. The teams just returned from the AAC championship with a third place finish from the men's team – their highest finish in the last 10 years.
"To be able to come out with three event champions and a conference record with Mr. Romaine Beckford, that's a good weekend for us," said Jenkins, USF's track and field coach.
Beckford's jump of 2.26 meters roughly seven feet, five inches broke the conference indoor record and a new height for the USF Bulls. 
"The main goal was to finish first and get the championship record," said Beckford. 
READ: University of Tampa swimmers ready to make a splash at Nationals
"I mean 7-5 that's getting on up there," said Jenkins. "We don't set limits on him." 
Did Beckford think he could clear 7-foot 5-inches?
"I never expected to clear it on my first attempt because normally when I'm getting a PR it's my last attempt," said Beckford.
Now, Beckford will attempt to become the first USF high jumper to win a National Championship. Romaine will head into the NCAA Championships ranked third in the country. The only difference with what he's been able to accomplish, and the top ranked jumper in the U.S. is less than an inch. 
"We are all in the 7-5 region," said Beckford. "I'm at 7-5, 2nd place is at 7-5 and a quarter and first place is at 7-5 and a half. So we all close."
MORE: USF women's hoops competes in cornhole tournament with seniors
David Ajama won gold in the triple jump and Nia Robinson is the second USF jumper earning a trip to the Nationals after breaking the conference long jump record at the end of January at a meet in Kentucky. She's ranked third in the nation and knows what she has to do to win it all. 
"I have to work on my last two strides to hit the board and go," said Robinson. 
USF has never had a National Champion crowned in Indoor track. This would be a leap towards gaining respect for a program on the rise. 
"A National Champion in anything is big," said Jenkins. "I don't care if it's track, softball as long as it says USF we want to be a part of it. I think our young man and young lady have as good of a shot as anybody else in the country of competing at a high level and getting it done.