Winston throws for 312 yards, Buccaneers rout Bears 36-10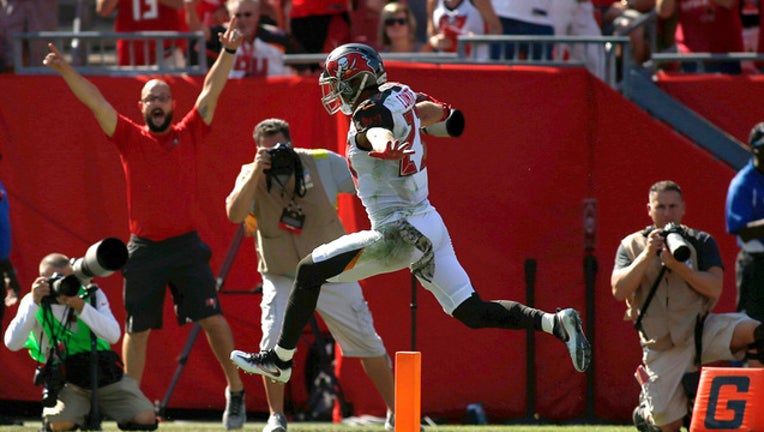 article
TAMPA, Fla. (AP) - Jameis Winston kept retreating toward his own goal line, seemingly in disregard for the best interests of the Tampa Bay Buccaneers.
The second-year quarterback often is at his best when he's improvising, though, and the first overall pick from the 2015 draft kept scrambling into the end zone and back out before heaving a 38-yard completion to Mike Evans.
The play started at his own 23 and ended at the Chicago 38, where Evans made a leaping catch. On the next play, Winston threw his second TD pass in a 36-10 rout of the Bears on Sunday.
"That's Jameis making plays," Bucs coach Dirk Koetter said, though that hardly crossed the coach's mind while Winston was heading the wrong way with the Bucs clinging to a seven-point lead early in the third quarter.
"Throw it away. Throw it away. Do anything. Don't take a safety," Koetter recalled himself thinking.
"But, the thing about Jameis, Jameis is going to do some things that we don't plan for and he's going to do some things that sometimes I don't like," the coach added. "But Jameis is going to make some plays. That's who he is. ... You can't coach that out of him. He's a special player in that respect."
Winston finished 23 of 33 for 312 yards with one interception, helping the Bucs (4-5) win at home for the first time this season. The Bears (2-7) are winless in five road games.
"That was a great play by him. ... He retreated. I tried to get him again and he stepped up in the pocket and let it rip," Bears linebacker Leonard Floyd said. "Great play by him."
Winston threw for TDs of 10 yards to Cameron Brate and 43 yards to Freddie Martino, a former practice squad player with two career receptions.
Two weeks after returning from injury and helping the Bears (2-7) beat NFC North leader Minnesota, Jay Cutler threw two interceptions and fumbled twice, one resulting in a third-quarter safety that put the Bucs up 29-10.
The Bucs forced four turnovers overall and sacked Cutler four times. Even though the Bears are last in the league in scoring, it was a confidence-building performance for a defense that yielded 73 points and 1,087 yards — including 857 passing — in home losses to Oakland and Atlanta the previous two weeks.
Cutler missed five games with a sprained right thumb before playing well and not turning the ball over against the Vikings. The Bears had a bye last week, but the momentum they built against Minnesota didn't carry over to the trip to Tampa.
The Bears scored on Cameron Meredith's 50-yard TD reception on the final play of the first half. Cutler finished 16 of 30 for 182 yards, and Tampa Bay's Chris Conte returned a first-quarter interception 20 yards to give the Bucs a 7-0 lead.
"Any given week, you can win, you can lose. It depends on how you execute," Cutler said. "Obviously, we didn't get the job done today."
MARTIN'S RETURN
Bucs running back Doug Martin returned from a hamstring injury that had sidelined him since Week 2. He rushed for 33 yards on 16 carries and scored on a 1-yard run that made it 36-10 late in the fourth quarter.
HAIL MARY
Deep in their own territory and down two touchdowns after turning the ball over four times, the Bears weren't content with merely running out the final 31 seconds of the opening half. They used timeouts after Jeremy Langford's 13-yard run and Cutler's 4-yard completion to the reserve running back, then set themselves up for a final play when Ka'Deem Carey scampered 16 yards to midfield on a reception before getting out of bounds. Cutler heaved his 50-yard TD pass to Meredith in the back of the end zone to finish a four-play, 83-yard drive.
YOUNG PASSER
Winston's second-quarter TD pass to Brate was the 40th of the second-year pro's career. At 22 years, 312 days old, he's the youngest quarterback in NFL history to reach that plateau, doing it in 25 games. He's on pace to top 4,000 yards passing for the second straight year, and has thrown for 19 TDs vs. 10 interceptions this season.
INJURIES
Bears: Lost the right side of their offensive line in the first half, with guard Kyle Long leaving with an ankle injury and tackle Bobby Massie suffering a concussion. Defensive lineman Will Sutton (ankle) left early in the third quarter and did not return.
Buccaneers: Starting left guard Kevin Phamphile (concussion protocol) did not play.
UP NEXT:
Bears: Remain on the road, facing the New York Giants.
Buccaneers: Continue a stretch of four consecutive games outside the NFC South, traveling to Kansas City,
___
For more NFL coverage: http://www.pro32.ap.org and http://www.twitter.com/AP_NFL