Winston's 3 TD passes help Bucs beat 49ers 34-17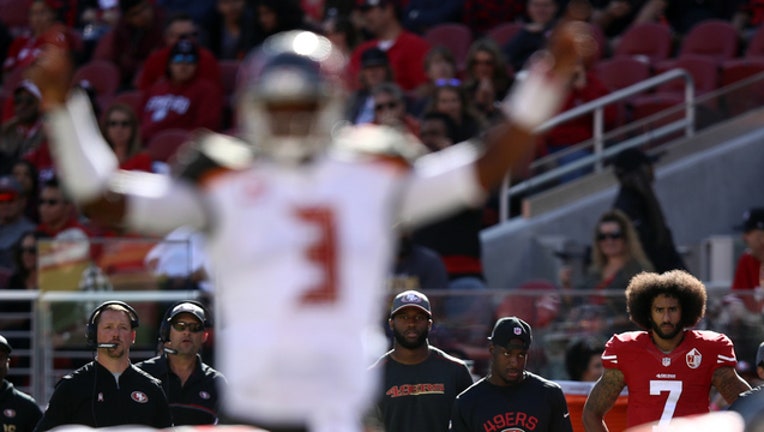 article
SANTA CLARA, Calif. (AP) - For a guy who started the season sitting on the couch, Jacquizz Rodgers sure has made the most of his long-awaited opportunity to be a featured running back in the NFL.
Rodgers followed his first career 100-yard game by rushing for a career-high 154 yards and Jameis Winston threw three touchdown passes to lead the Tampa Bay Buccaneers to a 34-17 victory over the San Francisco 49ers on Sunday.
"I've been waiting on this moment," Rodgers said. "My job is to take full advantage of it."
After being cut just before the season by Chicago and signing with Tampa Bay following the opener, Rodgers has filled in admirably for injured Doug Martin and Charles Sims to help Tampa Bay (3-3) get its season back on track following three straight losses.
He set career highs with 30 carries for 101 yards two weeks ago against Carolina and then returned from the bye with an even better performance against the 49ers. These last two games marked the first time in his six-year career that Rodgers has had at least 20 carries or 100 yards in a game.
"I feel like I have that swag I had in college," Rodgers said. "You know you're going in and you're going to touch the ball a lot of times. It helps you run with a lot of confidence knowing that you're not just going to get the ball five times. It helps me get into the groove."
The Bucs fell behind by 14 points early before scoring 27 straight behind a 249-yard rushing performance to deal the Niners (1-6) their sixth straight loss for San Francisco's longest losing streak since 2008.
Mike Evans caught eight passes for 96 yards and two touchdowns , Russell Shepard scored on a 19-yard pass from Winston and Peyton Barber iced the game with a 44-yard touchdown run in the fourth quarter to help Tampa Bay win its second straight game around its bye week.
Colin Kaepernick struggled in his second start of the season for the 49ers, going just 16 for 34 for 143 yards and turning the ball over twice after kneeling once again for the national anthem. Kaepernick replaced Blaine Gabbert as starter last week in Buffalo but the team has shown no signs of improving with him at the helm.
"Forward, backward, we're not doing what we need to do to be successful," coach Chip Kelly said. "We turned the ball over too many times to be successful today."
OPPORTUNISTIC PLAY: The Bucs turned two turnovers by San Francisco into 10 points in the third quarter. The first came when Niners rookie Aaron Burbridge collided with punt returner Jeremy Kerley, who was calling for a fair catch. That led to a muff that Tampa Bay recovered, setting up a field goal by Roberto Aguayo. On San Francisco's next possession, Jude Adjei-Barimah blitzed and forced a fumble by Kaepernick that Gerald McCoy recovered. Winston then threw a 3-yard TD pass to Evans to make it 27-14.
POROUS DEFENSE: Rodgers didn't take long to become the sixth straight running back to top the 100-yard mark in a game against the 49ers. His 45-yard run in the second quarter set up a field goal by Roberto Aguayo and gave him 102 yards on the day. Rodgers joined Fozzy Whitaker, Christine Michael, Ezekiel Elliott, David Johnson and LeSean McCoy as backs to gain at least 100 yards against San Francisco this season. The Niners are on pace to allow the most yards rushing in a season since 1981.
FAST START: For the second time in the past three home games, the Niners broke out to a 14-0 lead and lost it all by halftime. Kaepernick led a 75-yard drive to open the game, capped by Mike Davis' 4-yard run . Gerald Hodges' interception of Winston then set up a 17-yard TD pass from Kaepernick to Shaun Draughn. Tampa Bay scored 17 points in the second quarter to take the lead. Three weeks ago, Dallas fell behind 14-0 before tying the game at halftime and winning 24-17.
"Right now we haven't been playing 60 minutes, we've had good spurts and we've had flashes, but we haven't been able to do that on a continual basis," Kaepernick said.
MISSED KICK: Aguayo, a second-round draft pick, missed his fifth field goal of the season when he was short from 50 yards in the fourth quarter. He is 6-for-11 on the year and has also missed one extra point.
___
Online:
AP NFL website: www.pro32.ap.org and www.twitter.com/AP_NFL