Tropical Storm Elsa makes landfall north of Tampa Bay; risk of flooding, storm surge remains
TAMPA, Fla. - Even after Tropical Storm Elsa made landfall north of the Tampa Bay area, the concern for flooding and storm surge remained as winds began to turn onshore along the Gulf Coast.
Around 11 a.m., Elsa made landfall in Taylor County in the Big Bend area of Florida, reports the National Hurricane Center. Elsa's winds were around 65 miles per hour as it came ashore, then down to 50 mph by 2 p.m.
RELATED: With minimal damage reported, flood-prone communities turn attention to water levels as Elsa moves north
Even as Elsa moved away from the Bay Area, the storm wasn't done making its impact on the Bay Area. Inland, from Polk to Desoto counties, a large outer band brought a tropical downpour and rain totals of about 10 inches, creating a flood risk, reports FOX 13's meteorologist Tony Sadiku. 
READ: Thousands without power as Elsa brings gusting winds, heavy rain overnight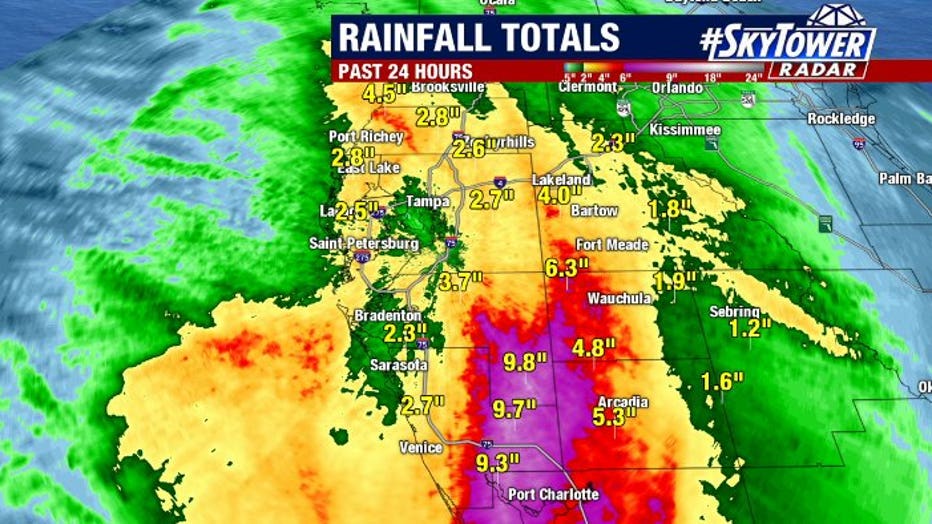 Shifting winds are another concern. A storm surge warning is in effect and the threat of flooding is expected to continue into the afternoon hours, maybe even for a couple of days. A flood warning is in place for eastern Manatee and Sarasota counties.
"You have to keep in mind how tropical systems are structured. They're counter-clockwise moving systems. Theoretically, the storm surge isn't really a problem until those winds start to pile onshore, and that's what we're waiting for," Sadiku said, noting the overnight high tide peak already passed, which is good. "Flood watches, that threat will continue long after the storm surge threat, probably through this afternoon and for a couple of days. Remember it takes a while for some of those rivers to swell up as well. Street flooding will be a concern during the day, today."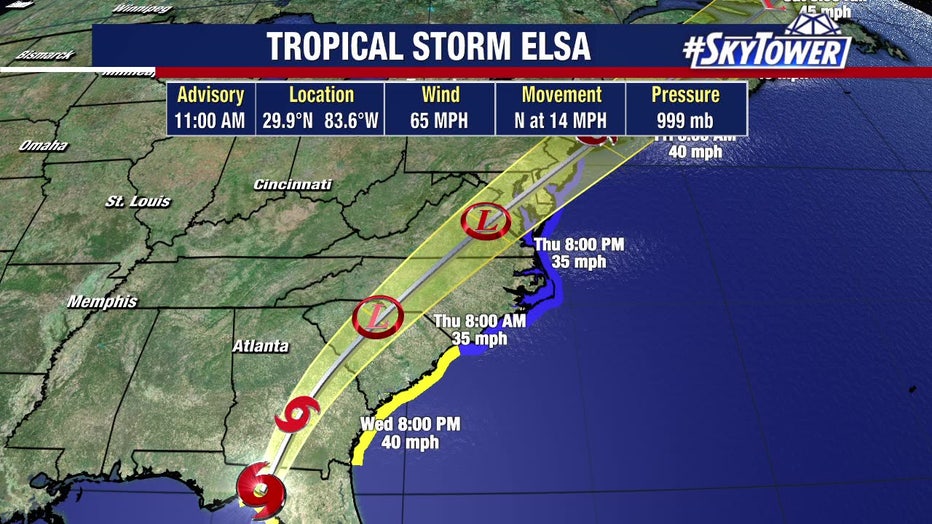 Airport and bridges
Tampa International Airport had suspended operations at 5 p.m. Tuesday. Officials said they planned to resume at 10 a.m. Wednesday, but now say flights will begin taking off again at 8:30 a.m.
Last year, during Tropical Storm Eta, transportation officials closed the Sunshine Skyway Bridge, but that did not occur as Elsa's wind bands passed Pinellas and Manatee counties. Officials typically shut down the span when winds reach 40 mph.
Barrier islands
Pinellas County planned to limit access to the barrier islands – from Dunedin to Pass-A-Grille – through 7 a.m. Wednesday, but those restrictions were lifted at 6:30 a.m. after the immediate threat from Elsa had passed.