10-year-old boy shares thanks in poignant photo at National Cemetery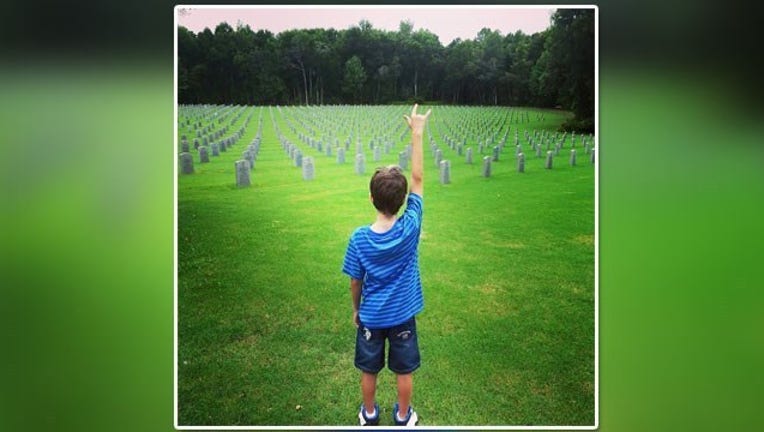 article
A beautiful moment was frozen in time when a 10-year-old boy visited the Florida National Cemetery in Bushnell to see the final resting place of his relatives.
In a photo captured by his mother, Darren, who is hearing disabled, gave a blessing to the veterans using the sign language symbol for "I love you."
Darren's mother, Barbie Groome of Wesley Chapel, said she took him Tuesday to visit his great grandparents and great uncle who are buried there. His great grandfather was in the U.S. Marine Corps and received a Purple Heart, Groome said. His great uncle was in the Army. They both served in World War II.
The experience was eye opening for him. "He was shocked to see all the burials there and so many of them," Groome said.
Groome said the last time he went to the cemetery, Darren was very small, so she thought maybe it was time to take him again. He'll be going into the 5th grade this fall. "He didn't understand the concept of those horrible situations going on," she said, referring to the shootings last week in Chattanooga that killed five U.S. servicemen. "It was a good timing for him at that age to understand complete," she said.
As they left, bad weather began to move in and when his mother asked if he would like to show his thanks, Darren turned and held up has hand to give the sign language sign of "I love you."
"He was in awe," she said, "And learned about who served and fight for our freedom."