2024 college rankings: Here's where Florida schools stand
TAMPA, Fla. - Several Florida schools rose in the rankings in US News and World Report's latest comparison of public and private colleges and universities.  
The 2024 rankings followed new methodology US News says gives greater weight to the academic success of economically diverse student populations.
Here's how Florida schools stack up among public universities and in overall (public and private) rankings on the national scene:
The University of Florida: No. 6 in public schools (previously 5), No. 28 overall (previously 29). 
Florida State University: No. 22 in public schools (previously 19), No. 53 overall (previously 57). 
The University of South Florida: No. 45 in public schools (previously 42), No. 89 overall (previously 97). 
The University of Central Florida: No 64 in public schools (no change), No. 124 overall (previously 137). 
Florida's public universities have made large strides in the rankings in recent years thanks in large part to their low-price tags. With an average in-state tuition below $6,500 per year, Florida's public schools are the most affordable in the country, often by thousands a year. 
While college rankings can offer a general overview of academics, tuition, and student experience, experts warn they should be taken with a big grain of salt. 
READ: Florida students could have new college admission testing option other than SAT, ACT
US News publishes one of the most popular ranking systems for higher education and can have a heavy influence on recruiting. It's a big reason why several schools have been accused of engaging in academic dishonesty to try to juice their rankings.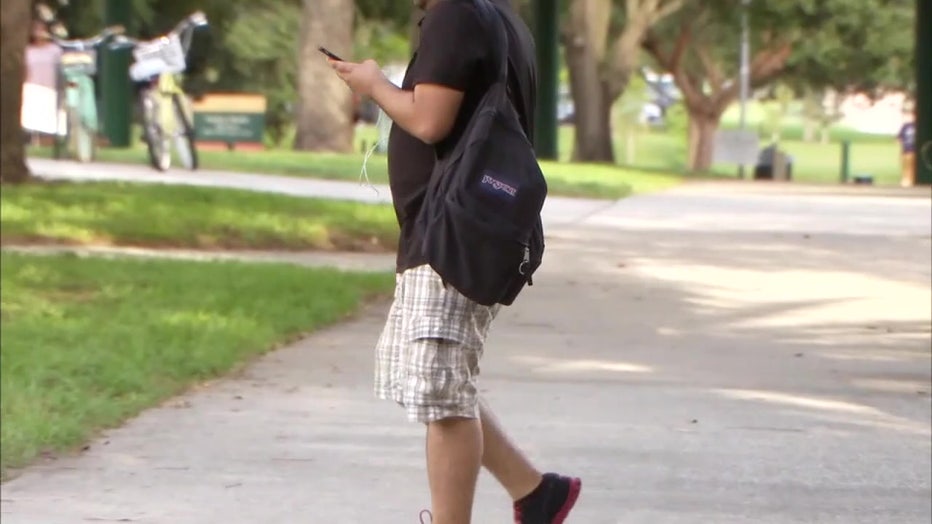 File: Student walking on school campus.
Many argue the rankings cause distortions within academia that hurt students. Several top schools like Harvard, Yale and UVA law have begun boycotting the rankings in recent years.
The new rankings also come after a year of upheaval brought on by Governor Ron DeSantis' new public education standards, which could be the reason for New College of Florida's dramatic fall of 24 spots among national liberal arts colleges. DeSantis made national headlines when he became directly involved in an overhaul of the school's direction and leadership. US News and World Report now places New College 100th among liberal arts colleges nationwide.
Meanwhile, Florida Polytechnic University in Lakeland and private Rollins College were both ranked top regional universities in the South.
USF's ranking at number 89 among all public and private universities is its highest-ever overall position.