DeSantis-appointed trustees, higher education reform bill will overhaul New College of Florida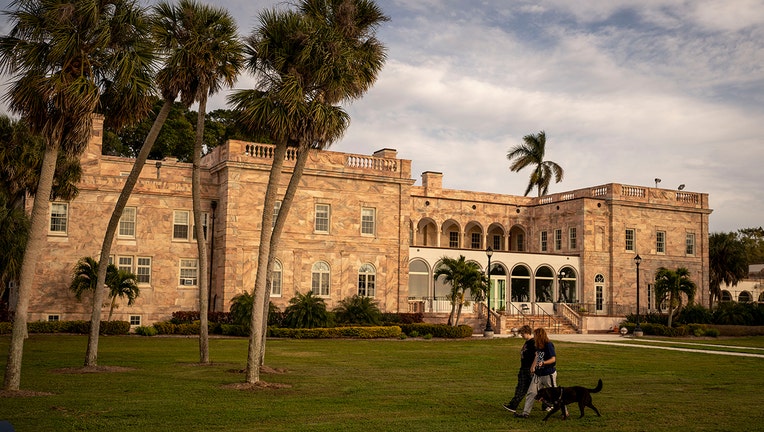 article
SARASOTA, Fla. - Earlier this year, Florida's governor remade the face of New College's board members. Tuesday, they will hold their first official meeting as the board of trustees.
Before the Board of Trustees' afternoon meeting, Gov. Ron DeSantis held a press conference five miles away at the State College of Florida in Bradenton, to announce a proposal for higher education changes. This includes committing $15 million for faculty and student recruitment, but $10 million recurring annually.
Part of his bill would include prohibiting public universities from using Diversity, Equity, and Inclusion (DEI) statements.
"New College has really embraced that," DeSantis said, "and I think that's part of the reason it hasn't been successful and the enrollment's down so much. In Florida statutes, this is supposed to be our premier liberal arts college."
The public university had a goal of having 1,200 students by 2024-25. However, according to New College, undergraduate numbers have declined in the past few years:
2016: 861
2017: 835
2018: 808
2019: 702
2020: 646
2021: 632
Currently, the school reports it has 689 undergraduate and graduate students as of the fall 2022 semester.
"New College has fallen far short of its stated goal to reach 1,200 enrolled students, instead declining from 800+ students to approximately 660," said Bryan Griffin, a spokesperson for the governor's office.
The school started as a private college in 1960, but 15 years later joined the State University System under the University of South Florida flagship. In 2001, it became independent and the 11th public university in Florida. It was designated by the Florida Legislature as the "Honors College for the State of Florida."
Today, in an admission brochure, New College of Florida describes its approach to higher education as this: "Your education. Your way. Be original. Be you."  The state school of fewer than 1,000 students nestled along Sarasota Bay has long been known for its progressive thought and creative course offerings that don't use traditional grades.
It is also a haven for marginalized students, especially from the LGBTQ community, said second-year student Sam Sharf.
"There's a lot of students out there that are not allowed to be themselves in their hometowns," said Sharf, who is a transgender woman. "When they get to come here, they get to thrive because they really get to be themselves."
READ: West Virginia advances mandate to display 'In God We Trust' in schools
For the six new trustees appointed by DeSantis, they intend to turn the school into a classical liberal arts school modeled after conservative favorite Hillsdale College in Michigan.
One new trustee, Manhattan Institute senior fellow Christopher Rufo, said in a column on his website that the governor wants the group to accomplish what he calls "institutional recapture," which would move New College away from such things as diversity, equity and inclusion programs and teaching of critical race theory — the idea that racism is enmeshed in U.S. society.
"Ours is a project of recapture and reinvention," Rufo wrote, listing several ways he believes left-wing ideas have permeated universities across the country. "Conservatives have the opportunity finally to demonstrate an effective countermeasure against the long march through institutions."
Students such as Sharf and New College faculty have begun to push back, organizing meetings to plan strategy and issuing statements against the conservative takeover.
MORE: Florida lawmakers propose 'constitutional carry' bill to allow concealed weapons without licenses
"We support (students') fearless pursuit of knowledge, including research on race and gender," the New College chapter of United Faculty of Florida wrote in a public statement last week. "We assert our unflagging commitment to free speech, academic integrity and the respectful exchange of different viewpoints."
Sharf said many students worry New College will become "a quote-unquote 'Hillsdale of the South.' I'm not trying to be in an environment where I'm force-fed dogmatic, nationalistic, Christian education. I want to be in a place where you're free to think and learn what you want."
The governor's appointment of the New College trustees, including a government professor at Hillsdale College, are only one part of DeSantis' effort to shift Florida's 28 state-funded institutions of higher learning in a more conservative direction.
These efforts include a memo DeSantis sent to all Florida colleges and universities requiring them to list programs and staff involved in diversity, equity and inclusion, or DEI, initiatives. The governor signed legislation last April to change the accreditation method for Florida schools and heighten performance review of tenured professors.
READ: Gov. DeSantis backs death penalty for child rapists in Florida
During his second inaugural address earlier this month, DeSantis said his goal is to "ensure that our institutions of higher learning are focused on academic excellence and the pursuit of truth, not the imposition of trendy ideology."
The presidents of all 28 Florida colleges and universities responded to DeSantis' memo on DEI initiatives with a joint statement seeking to distance their institutions from critical race theory and similar concepts. They set a Feb. 1 goal to remove any objectionable programs.
MORE: Florida's rejection of AP Black history course stirs debate
That statement says, in part, that the schools will not fund programs with the primary idea that "systems of oppression should be the primary lens through which teaching and learning are analyzed and/or improved upon."
The presidents added that critical race theory can be taught but only "as one of several theories and in an objective manner."
The new trustees, on an interim basis pending Florida Senate confirmation, will join the rest of the 13-member board at a meeting Jan. 31. Students and other opponents of conservative change expect to make their views known, Sharf said.
"The vast majority of people on campus don't want this," she said. "They would erase a lot of things on campus. I don't want to be in a place that tries to erase my existence."
The Associated Press contributed to this report.