Baugh admits wrongdoing in Lakewood Ranch vaccine clinic scandal, fined $8,000 by state
TALLAHASSEE, Fla. - In mid-February 2021, the first COVID-19 vaccines were being distributed to the most vulnerable in Florida. Residents over the age of 65 and people with additional health risks were getting the shots first. Around 30% of Florida seniors had been vaccinated.
As the vaccines were sent to counties across the state, Manatee County commissioner Vanessa Baugh got a call from state officials, asking if she would like to have 3,000 extra shots distributed in her county. She jumped at the chance, telling state officials to hold their pop-up clinic in the zip codes 34221 and 34208. 
When word of the clinic became public, the public called foul. 
The zip codes were in Lakewood Ranch, an area later called the "whitest and richest" in the county.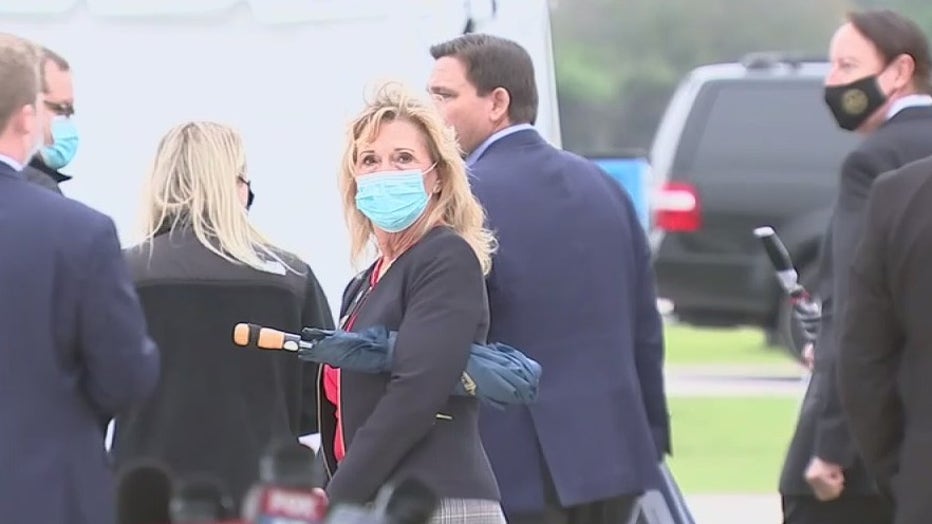 Manatee County Commission Chairperson Vanessa Baugh with Governor Ron DeSantis
In the following months and years, local and state officials looked into what happened. They wanted to know if Baugh and Governor Ron DeSantis' offices acted improperly to send the coveted vaccine doses to potential campaign donors and political supporters. 
Nearly two years later, Baugh admits she acted improperly and asked state ethics officials to let her pay an $8,000 fine – instead of losing her job.
PREVIOUS: Vaccine clinic in 'whitest and richest' Lakewood Ranch sets off fury in Manatee County
During Friday's Florida Commission on Ethics commission meeting, Baugh answered to accusations she abused her position in office when she organized the pop-up vaccine clinic and put herself on the lottery list to potentially receive the shot. 
The commission noted Baugh did not end up getting a shot at the clinic, only due to public outrage.
On that, the commission seemed to agree. 
MORE: Crist pushes US Attorney General to investigate DeSantis, vaccine clinics
The commission asked Baugh to go on the record with her actions. They recounted the fear and difficulty citizens faced when COVID was at its peak and the vaccine was only available for the most vulnerable. In the face of that fear, commissioners said, Baugh looked after a chosen few.
Baugh said she was asked by state officials if she wanted to have a vaccine clinic in Lakewood Ranch and she agreed. Now, she says, she realizes that was a mistake. 
"I tried to do what I thought was right," Baugh said. "I see that now, that was a mistake."
PREVIOUS: Baugh to remain Manatee County Commission chairperson, but deputies now investigating vaccine site
Baugh admitted to the accusations against her in hopes the commission would agree to her settlement proposal. 
The settlement included an $8,000 fine to be paid by Baugh, and not repaid to her with any government funds.
The settlement stipulated that the fine would be documented through an executive order from Gov. DeSantis.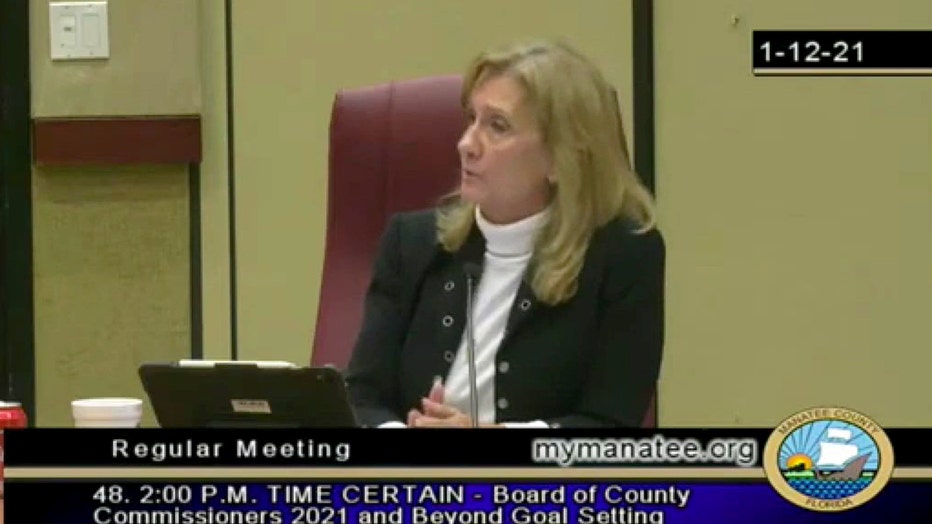 County Commission Chairman Vanessa Baugh 
Before commissioners voted whether to accept Baugh's admission of wrongdoing and impose the fine, they made sure the Manatee County official and those she represents know what expected.
"The fact is you put your name on the list and the only reason you didn't get the shot is because of public outcry," one commissioner said. "That is unacceptable in a public official. Leaders sleep on the ground; they don't sleep in a featherbed when their… folks have to sleep on the ground. They sleep on the ground too."
"If you want my vote today, when you go home, please don't try to smooth over this. Please go home and say and do what you've done today and admit that what you've done is wrong."
Baugh told the commission she now sees the wrong in what she did, but did not see it at the time.
"This has been a major experience for me, one that I've learned a lot from. It's been a tough experience for Manatee County. I have always, have tried to be a good commissioner, always," Baugh said. I will do my best possible, everything that I can to be the best commissioner, to make this commission proud in the future."
The commission voted 4-2 to let Baugh keep her job and pay the $8,000 fine.
Baugh noted that she and her husband have paid her own attorney fees. Those given the shot at the clinic were over the age of 65, a representative for Baugh said.
Note: A previous version of this story stated Baugh was fined $800,000. The fine was $8,000.